What is an Ergonomic Mouse Tray?
Many ergonomic products are available to help computer users reduce the hand and wrist pain associated with mouse-induced carpal tunnel syndrome and repetitive stress injury. Designed to decrease wrist bending, an ergonomic mouse tray is a mouse pad holder that attaches to a keyboard tray, or even an office chair, and enables the mouse to be used closer to the keyboard. Available in swivel and slide-out models, the tray helps to reduce the strain on the wrist, lessens the weight on the shoulders, decreases muscle work and cushions the surface under the wrist. One advantage of ergonomic mouse trays is that they can be positioned for optimal user comfort.
Many ergonomic keyboards come with a built-in mousing platform, but separate attachments also are available. Mouse trays usually pivot or tilt, adjusting independently of the keyboard, and many offer 360° rotation. Height adjustment varies by model, from a limited number of height positions to virtually unlimited adjustability. Some mouse trays slide or rotate under the keyboard for unobtrusive storage when not in use. Mouse trays are available in left-handed, right-handed and dual-sided designs.
Many ergonomic mouse trays offer palm support for further comfort and efficiency. Although the mouse tray does not have to be the same height as the keyboard, it is sometimes found to be more ergonomically effective if the keyboard is also in a tray. Elbow height is usually the ideal height for a mouse. The shoulders should then be relaxed and the wrist should not have to bend up or down during mouse use.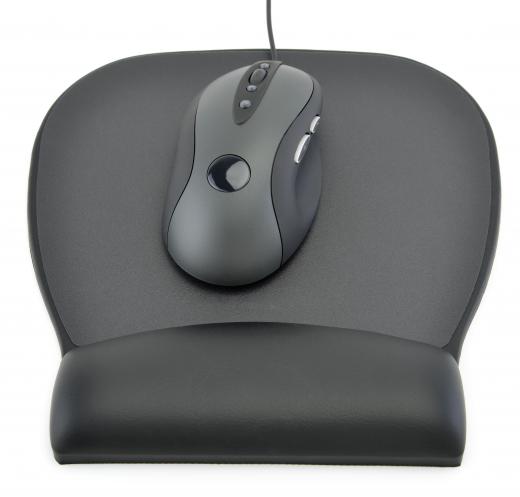 Things to consider when looking for an ergonomic mouse tray are size, portability, and adjustability. An ergonomic mouse tray is beneficial to the user's comfort and productivity, but it can also be a practical solution if space is limited. Portability can be important in cases in which a laptop is used. Many laptop drawers incorporate an ergonomic mouse tray into their design.
The various mouse tray models are generally easy to install and adjust. Some keyboard and mouse tray combinations mount directly on the office chair. One negative associated with mouse trays is that they have occasionally been found to be wobbly or unsteady.
Other ergonomic computer equipment to consider when looking to reduce mouse-related discomfort includes ergonomic mouse pads such as gel or memory-foam mouse pads. These ergonomic wrist rests offer comfort and functionality, especially when used in conjunction with an ergonomic mouse tray. An ergonomic chair could help further reduce physical stress at computer workstations.
AS FEATURED ON:
AS FEATURED ON:

By: Gajus

An ergonomic mouse tray is designed to help with wrist pain associated with carpal tunnel syndrome.

By: uwimages

Ergonomic mouse pads may be designed to provide wrist support.

By: SanjMur

A person who does not use an ergonomic mouse tray while working on the computer may be inadvertabtly causing harm to his or her wrist.

By: Gajus

Some ergonomic computer equipment is designed with the assistance of medical professionals.