What is an HP Smart Card?
An HP Smart Card is a security device manufactured by computer maker Hewlett Packard® (HP®). A smart card is usually the size of a credit card and contains a chip that exchanges information with a smart-card-ready device. Some HP® computers come equipped with HP Smart Card-based security technology that requires a properly configured smart card to boot the computer or access encrypted data. On an HP® computer, the smart card security function is one security feature of HP ProtectTools Security Manager® suite.
A computer smart card is a data card with a microprocessor embedded inside. The smart card configuration is usually used on newer credit cards and on electronic security identification badges. Smaller smart cards make a frequent appearance as Subscriber Identity Module (SIM) cards in many cell phones. In addition to the security features smart cards present, properly equipped smart card users can scan smart card enabled credit cards for online payment. HP® is not the only manufacturer that makes smart cards — users can also purchase a Sony® Smart Card, or smart cards from other companies, like Cardlogix®, Cisco Security® and ActivIdentity®.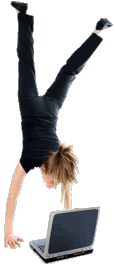 HP Smart Card security turns a smart card into an electronic key for a computer. Generally, HP® includes computer smart card setup functions in HP® business notebooks with the HP Smart Card security suite. In the smart card security utility, a user initializes and configures the smart card and sets up the computer to work with HP Smart Card security. Users can add other layers of security, such as fingerprint scanners and encrypted passwords, to further elevate the security protection on the computer.
Smart cards are used for security protection technology because they are built with specifications that make these types of cards more difficult to hack. Typically, smart card security is not available on all smart-card-ready computers. For a smart card to function as a computer security device, the user needs a smart card security software package in addition to a smart card reader.
Also, smart card readers are called Card Accepting Devices (CAD). Computer smart card readers are included on most computers that come equipped with smart card security technology. For computers with no built-in smart card reader, external smart card readers attach via Universal Serial Bus (USB) or serial port to provide smart card access to the computer. External smart card readers can be standalone devices, or they may be built into other devices, such as keyboards.
AS FEATURED ON:
AS FEATURED ON:

Woman doing a handstand with a computer