What is an Inkless Fingerprint?
An inkless fingerprint is a clean, modern method of taking a fingerprint. With this type of individual identification, the messy inkpads of the past are no longer necessary. A special inkless fingerprint pad is used to take impressions, rather than a traditional inkpad. Sometimes, special paper is also used to record prints.
Employers frequently opt for inkless fingerprint systems, which can assist them in performing background checks on potential and current employees. By eliminating the mess of traditional fingerprints, inkless systems can be more convenient and easy to use in a variety of settings. Occasionally someone who has been fingerprinted in this way will need to rub his or her fingertips together, or wipe them with a paper towel, to remove trace amounts of chemical residue. This can be left on fingers due to chemicals necessary for this fingerprinting process.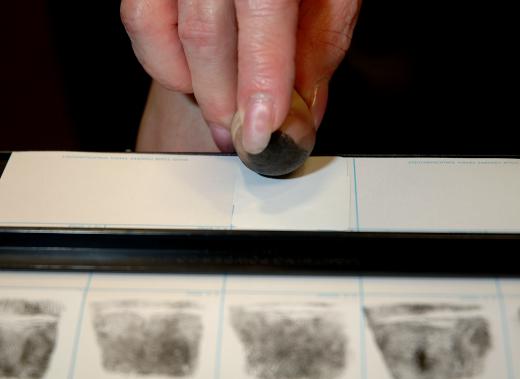 Inkless fingerprinting utilizes special paper and a chemical reaction to produce a detailed print. Towelettes or a special inkless pad are used in place of traditional ink pads. When fingers coated with these chemicals are pressed onto reactive paper, an image forms. Other forms of inkless fingerprinting may utilize digital technology in place of chemicals and reactive paper.
Taking a digital inkless fingerprint typically is done much like digital scanning. Fingers are pressed onto a small scanner attached to a fingerprinting software program. The scanner photographs finger pads and records prints along with other information like the person's name, address, and date of birth. Often, the same program is used to store facial photographs known as mug shots.
Chemical inks can also be used to capture an inkless fingerprint. Fingers are pressed into ink laced with chemicals that develop under heat. Fingerprint cards are then baked and the inkless fingerprint is revealed.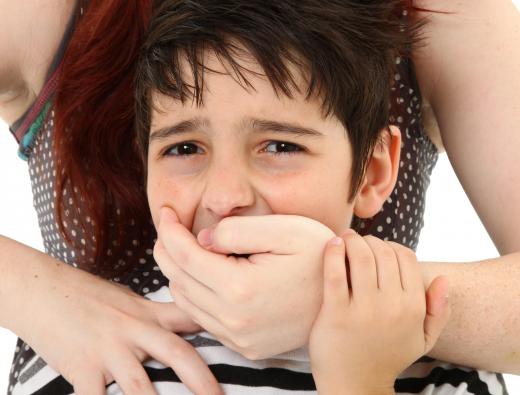 Inkless fingerprints are often used to add another level of security to checks or other documents. Banks may take a thumbprint and use it to verify personal identity for banking transactions. According to statistics, incidences of checks being endorsed by the wrong people are drastically reduced when thumbprints are used. Inkless fingerprints may act as a powerful deterrent to criminals who try to write bad checks or assume another person's identity.
Notaries and medical labs also make use of inkless fingerprints, which provide a clean system of recording proof of identity. For industries where sensitive information is handled, inkless fingerprints can be a necessary part of doing business and maintaining security. For those who work with confidential papers or health and financial information, the addition of a fingerprint to personnel records can be a very wise method of record-keeping.
AS FEATURED ON:
AS FEATURED ON:

By: Marina Krasnovid

With inkless fingerprinting, the messy inkpads are no longer necessary.

By: didecs

The chemical residue left by inkless fingerprinting can be wiped away with paper towels.

By: Jaimie Duplass

Child fingerprinting is becoming more common as parents prepare for the possibility of their child being abducted.

By: Fotosenmeer.nl

Fingerprint reading devices can be used to unlock doors.