What is an Internet Cafe?
An Internet café serves up a bank of computers with high-speed Internet access for public consumption. The customer gets charged by the minute or the hour, or might purchase a monthly pass. The Internet café might also serve food and beverages, but this isn't always the case. These cafés peaked in popularity in the United States between 1995 and 2000, but have mostly been replaced by WiFi cafés.
One breed of Internet café that persists to a lesser degree is geared towards multi-player gaming, but generally cafés were intended for surfing the Net. That could mean collecting email, doing research, or just cruising the World Wide Web.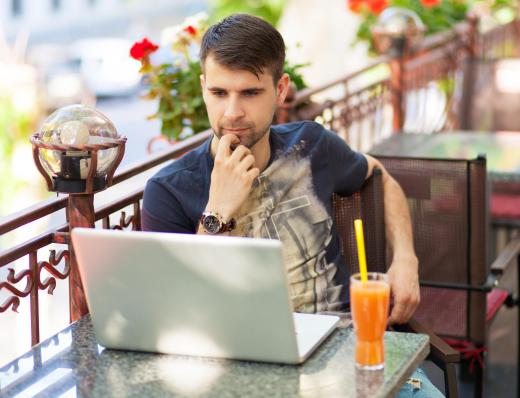 Those who don't have computers at home are obvious potential customers for an Internet café, while others might have computers but lack high-speed Internet access. It may be a lot quicker, for example, to download software or multimedia files onto a memory stick using an Internet café computer, than to sit for elongated periods of time in front of a dial-up connection at home. If the café serves coffee or other refreshments, better still!
An Internet café is also handy for travelers who can stop in to check email, look up directions, or send off a message to loved ones at home. Other people may just feel like getting out of the house to sit and relax undisturbed in front of a computer in a comfortable setting. For people that don't have portable laptops, this is a nice option.
According to the online guide, Internet Café History, Londonite Eva Pascoe was the first to open an Internet café in September 1994, called Café Cyberia. Reportedly instant publicity brought in heavies like Mick Jagger to invest in the enterprise. It wasn't long before Pascoe's idea was replicated. However, as early as 1991, San Francisco's SFNet offered a bank of networked computers that were first connected to a bulletin board and later to the Internet via a 2400 baud modem.
Although the Internet café is still very popular in countries like India, wireless technology and the affordability of laptop computers has made WiFi cafés more ubiquitous in the United States. A WiFi café transmits a wireless network signal throughout the premises enabling any customer to "hop on" using their own laptop with a wireless network card. Although these cafes are wireless, they are sometimes referred to as wired cafés or "hot" after hotspots -- or places with wireless access.
AS FEATURED ON:
AS FEATURED ON:

By: George Dolgikh

Internet cafes are popular spots for telecommute workers and travelers looking to connect with loved ones back home.

By: volff

Internet cafes often serve gourmet coffees.

By: Maya Kruchancova

Some Internet cafes serve alcoholic drinks.

By: SOMATUSCANI

Today, many sidewalk cafes, bistros and coffee shops offer wireless Internet for customers.