What is Computer Aided Design?
Computer aided design is a creative design process that is based on a computer system. It can be either hardware or software based; however, it is usually a software based program that is used for design purposes. This design process uses computer technology to assist certain types of professionals in the design and drawing of technical drawings. It is also referred to as CAD or computer aided drafting.
Many professionals use computer aided design in the day-to-day operations of their business and most of these people are specially trained. Design and drafting programs can be difficult to use, and people cannot just log on to a program and begin a drawing. Users need to become familiar with certain tools and mathematical equations. Without special training in the basics of the program, precise technical drawings are not possible.
Most computer aided design programs are expensive to purchase; however, there are cheap or free versions also available on the retail market today. There are drawbacks to the inexpensive or free CAD programs, however, including the lack of tools and drawing functions available to users. That is why so many people spend a great deal of money on the appropriate design programs for their business.
Computer aided design and drafting programs come in two main forms: 2D and 3D. 3D programs are often more advanced than their 2D counterparts. Both architects and engineers, the two professions that most use computer drawing programs, typically prefer the 3D option. 3D provides additional details in design that are not available in 2D versions. For example, in 3D CAD programs, designs can be viewed from any angle and measurements and other specifications can be change with the touch of a button.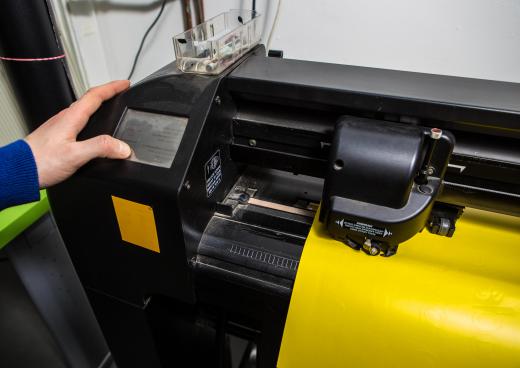 Some of the first CAD systems had to run on specific computers; however, today they can run on any computer that is adequately outfitted with the appropriate parts. Computers that run these programs need a high quality graphics card, a good mouse and a light pen or digitizing tablet. These computers also need to be paired with a special printer or plotter for best results.
AS FEATURED ON:
AS FEATURED ON:

By: ruigsantos

Computer aided design uses software to help produce technical designs.

By: Marzky Ragsac Jr.

Many types of engineering use computer aided design software.

By: jurra8

Computer aided design programs are typically used in conjunction with a plotter or a high-end large format printer.

By: Chad McDermott

Designs made from CAD software are used in a number of different industries, including architecture, engineering and manufacturing.

By: Monkey Business

Modern CAD software can create a digital object that can then be 3D printed.