Doppler radar is a listening device that uses microwaves to "hear" physical changes. Microwaves reflect off objects at different times based on their relative position to the Doppler radar. Based on how quickly waves bounce back, a precise picture can be created. It is typically used in air traffic control, police speed control guns, and radiology. Commonly associated with meteorology, the pulse-Doppler can measure both distance and velocity.
This technology is based on the Doppler effect. Using this science, if a stationary object is shooting microwaves at a moving object, the velocity of waves will change as the position of the moving object changes. For instance, if microwaves are focused on a person walking toward the radar, these waves would become taller and more frequent as the person moved closer to the machine. This is because distance between the object and radar is shorter and the waves have less space to travel.
The opposite is also true, meaning if a moving target were to walk away from the microwave source, the waves would lengthen and shorten as distance between the two increased. At some point, these waves may become so stretched they appear flat. In order to create pictures from these microwaves, a constant communication between the radar and object must be maintained. This communication requires a continuous output and input of waves.
There are many physical uses for Doppler imaging. In air traffic control, waves are used to see the position of planes in the sky. A constant stream of wave communication can be interpreted by personal computers as a moving image. Air traffic controllers see planes in air as moving representations of their physical locations, with only a slight delay in real time.
Police also use Doppler radar. A radar gun shoots radio waves at a moving object. These waves hit the object, like a car, and bounce back, but instead of offering object location, waves are measured for object velocity. Radar guns may also be used in sports, to time runner and baseball speeds.
The medical field uses digital Doppler to save lives. In this use, electromagnetic waves are used to give doctors a visual representation of the inside of a body, without cutting the skin. These waves can create a two-dimensional (2D) or three-dimensional (3D) views of organs or foreign substances in the body. Pregnancy ultrasound uses 2D and 3D Doppler to give parents and obstetricians a baby's first picture.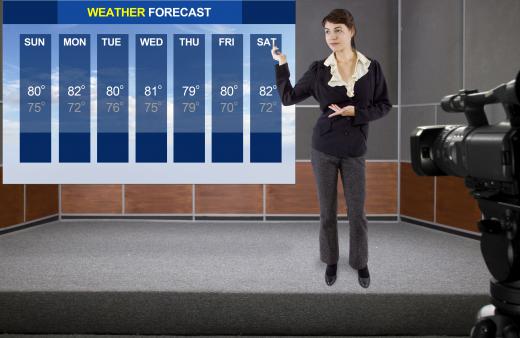 As technology advanced, the science of Doppler imaging — pulse-Doppler — was created. Pulse-Doppler radar is able to measure both location and speed of an object. In terms of meteorology, waves are bounced off clouds to measure their density, location, and speed.
AS FEATURED ON:
AS FEATURED ON:

By: Leonid

Meteorologists use weather Doppler radar to help locate and forecast storms.

By: sudok1

Medical Doppler devices uses high frequency sound waves to monitor internal organs.

By: Yevgenia Gorbulsky

Doppler radar can help meteorologists predict winter storms.

By: Innovated Captures

Meteorologists use Doppler radar to track and predict weather patterns.

By: Actionpics

Radar is used to gauge the speed of pitches at a baseball game.

By: Valua Vitaly

Pregnancy ultrasound uses 2D and 3D Doppler to give parents and obstetricians a baby's first picture.