What is Mobile Phone Spam?
Mobile phone spam is alternately called SMS spam or m-spam, and is an abuse of the text messaging services most people receive with their mobile phone. Most people who own a cell phone are already quite familiar with this type of spam. Such spam usually comes in the form of text messages that may be advertisements, or in worse cases, be attempts to scam the mobile phone user.
The trouble with cell phone spam is that it is not only annoying, but it can also be expensive. Some people pay to receive text messages. In 2006 for instance, Sprint® was sued for sending text message spam and advertisements for their own company to their customers. Since each message cost $0.10 US Dollars (USD) to receive, this was a means for Sprint to make more money from its customers, without their permission. Sprint settled and was ordered by a California court to stop this advertising and to reimburse customers who'd been charged for their mobile phone spam techniques.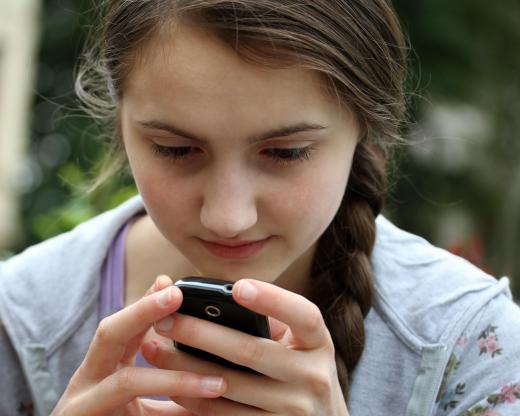 There are some laws in the US that may limit advertisers' rights to use mobile phone spam in the form of text messaging. The federal acts, the Telephone Consumer Protection Act of 1991, and CAN-SPAM Act of 2003 can regulate some of the cell phone spam you might receive. Unfortunately, these acts are not enforced with great regularity. State laws, like the ban of mobile phone spamming in California, and strong laws in Ohio that protect consumers against SMS spam have been enacted, and these are judged usually more effective than CAN-SPAM. Australia and Hong Kong both have laws specific to prohibiting cell phone spamming too, but in many countries and in parts of the US, this type of spam is hard to fight and difficult to investigate.
Sometimes mobile phone spam is not just advertising but purposeful acts attempting to defraud consumers. This is the case when people leave numbers, which are toll numbers, which will then be charged to the cell phone user's bill. Another type of spamming is the collection of information, when a person is told to call a number, and in doing so, may be asked to give personal information about him/herself, or the very fact that he/she returns the call is used to establish the cell phone number is genuine.
In any case, if you are receiving mobile phone spam or junk texts on a regular basis, you might want to discuss this with your cell phone company to see if they have any plans to combat it. If you receive spam email on your phone you can use filters which may help alleviate the problem. Another thing you can do is change your phone number. It may be helpful to register your phone number with the National Do Not Call Registry in the US, which at the least will keep the legitimate spammers (advertisers) from messaging you in most cases.
AS FEATURED ON:
AS FEATURED ON:

By: denys_kuvaiev

The trouble with mobile phone spam is that it is not only annoying, but it can also be expensive.

By: Giulio_Fornasar

Text messages provide a quick and convenient way to send short messages without needing to make an actual phone call.

By: Alliance

It may be necessary to contact a person's cell phone company if he or she is having problems with phone spam.

By: michaeljung

Seniors are a regular target for mobile phone spam and scams.