Online layaways are an Internet shopping alternative that makes it possible to select items and then pay for them over time. As with a traditional layaway plan at a brick and mortar retail establishment, the shopper covenants to make regular payments on the selected merchandise until the items are paid for in full. One the items are purchased, the vendor ships the merchandise to the shopper.
Choosing to use an online layaway plan versus paying for goods using credit cards offers several advantages. First, many online stores that offer online layaway services do not charge any type of finance charge, meaning that the actual cost to the consumer is not complicated with interest that is charged on credit card balances. This helps to keep the cost of making purchases a little lower, a benefit that can be very important when working with a tight budget.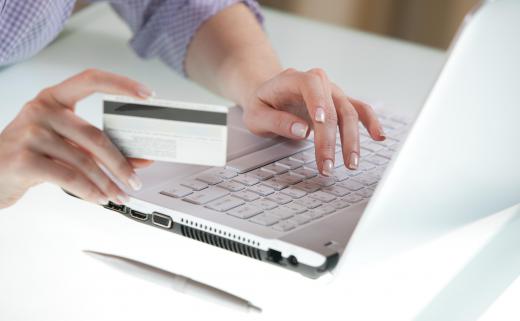 Another benefit to using online layaway services is that there is no need for a credit card at all. Shoppers can choose to set up an automatic withdrawal from a bank account, specifying the amount and the day of the month that the withdrawal will take place. This makes it easy to budget for the payment, as well as eliminate the need to make the monthly installment payment manually.
While there are standalone online retailers that offer the online layaway option, shoppers are often attracted to online malls that offer this payment option. The shopper can visit any of the online stores included in the mall, making purchases and placing them on a mall-based layaway plan. Many of these Internet malls include a calculator that allows the shopper to determine what the monthly payments would be on the total layaway for different periods. For example, the online layaway plans may include the option of establishing a layaway for a period as short as three months or as much as two years, depending on the total of the order.
Today, there are online layaway stores for just about any type of goods that can be imagined. Clothing and toys are two examples. There are also online furniture layaway options as well as Internet layaway plans for electronics, auto parts, and sporting equipment. Online stores with layaway privileges are becoming more popular, making the demand for layaway plans at all sorts of online stores greater than at any time in the past.
With online layaway, it is possible to select items that may not be available locally, reserve them for purchase, and then pay for the goods without tying up credit limits or putting a great deal of stress on a tight budget. By planning ahead and creating a reasonable payment plan, online layaway can be a great way to obtain gifts for holidays, birthdays and other special occasions without increasing your current debt load or complicating your finances in any way.
AS FEATURED ON:
AS FEATURED ON:

By: Vladimir Gerasimov

Online layaway allows a customer to select an item and then pay for it over time via the internet.

By: Serg Zastavkin

Many retailers offer online layaway for purchases made through their website.

By: gemenacom

Online layaway works similar to the layaway programs that are popular at brick-and-mortar stores during the holidays.

By: Sergey Nivens

The rise of credit cards has made layaway somewhat uncommon.

By: pressmaster

Layaway offers consumers the option to pay deposits in order to reserve a particular item.

By: Denys Prykhodov

Payments for online layaway can be made via computer or smartphone.