What Is the Difference between Computer Forensics and Data Recovery?
The major difference between computer forensics and data recovery is the intended purpose of the recovery and how the data is going to be used. Computer forensics typically refers to the process of recovering or finding data on a computer system or piece of hardware for use in law enforcement or a criminal investigation. Data recovery, on the other hand, tends to refer to the act of finding seemingly lost or damaged data and recovering it to a usable state. While both data recovery and computer forensics share some similarities in procedures, the intended purpose of such procedures is often quite different.
Both disciplines within computer science, computer forensics and data recovery are usually performed by someone with a background in programming and data storage. Computer forensics is typically an aspect of law enforcement for gathering evidence by extracting data from a computer system. This can be done in a number of different ways, such as tracking emails sent back to the system used to send it, piecing together fragments of data left on a system after a file was deleted, and finding metadata on a disc recovered from a crime scene. Once this information is attained, it is then given to a law enforcement agency to help build a case or track a suspect.
The methods used for finding data in both computer forensics and data recovery are quite similar, but data recovery is typically requested by the owner of a computer or system. Data recovery is performed when a disc drive or other system is damaged or data has been lost due to a critical error. The computer user typically brings the system to a computer specialist for data recovery, in the hopes that recovered data will be usable. While this can result in illegal data being found, which may be turned over to law enforcement, the initial goal of such data recovery is to assist the computer owner.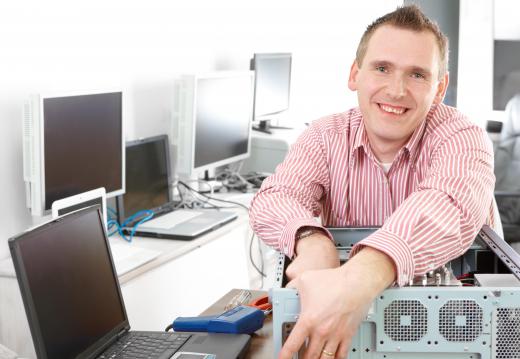 Though both data recovery and computer forensics can utilize similar techniques, there are some differences in the problems faced in each process. In computer forensics, for example, data may have been purposefully deleted or encrypted to try to destroy it or keep it secure. Data recovery does not usually deal with such purposeful loss of data or encryption. Someone with a background or experience in recovering lost or hidden data might work in both computer forensics and data recovery, providing assistance to law enforcement and private customers as needed.
AS FEATURED ON:
AS FEATURED ON:

By: diego cervo

Computer forensics and data recovery are both specialties within the computer science field.

By: Monika Wisniewska

Computer forensics experts must know how to gain information from hardware as well as software.