Touch typing is a typing technique in which people navigate the keyboard by touch alone, without looking at it. Typists rely on muscle memory to know that their hands are in the right place. This typing method is generally preferred by professional typists, and employers often ask secretaries and other people who will be working regularly with computers or typewriters to demonstrate such typing skills.
The development of touch typing appears to date back to the 1800s. Several different keyboard layouts can be used, with the QWERTY and Dvorak layouts being especially popular. In this method, the typist keeps his or her hands on a "home row" in the middle of the keyboard, reaching up or down with the fingers as needed to reach keys that lie outside the home row. People usually learn this style of typing by being shown a keyboard layout, and then asked to practice, with the typist eventually covering his or her hands and the keyboard so that the keys cannot be seen; experienced typists may periodically do this as a refresher to keep their skills sharp.
Learning touch typing is usually a fairly rapid process, and people can quickly achieve high typing speeds. This is in contrast with the so-called "hunt and peck" technique, in which people look at the keyboard to seek out the keys they need, activating them with their index fingers. This technique is much slower, and it can also create more strain on the hands.
Many high schools offer touch typing courses, and people can also learn online or with software, with the program providing typing prompts and tips that will help people pick up the skills quickly. The best way for individuals to learn is to practice diligently, and to make a habit of doing some typing every day to train the muscles so that they will remember the keyboard layout. Some people find that it helps to work with a different keyboard layout, as some layouts are more intuitive than others.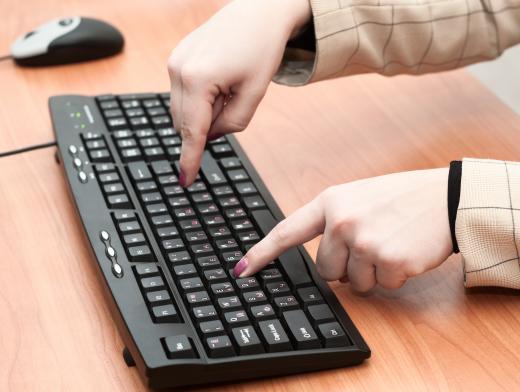 Touch typists can also work with stenography machines and other types of keyboards. Some typists are extremely fast, thanks to years of work experience and training, with world typing records approaching 200 words a minute. Typing speeds can also vary depending on the kind of material being typed, and the working conditions; it is easier to type quickly at an ergonomic desk, for example, and in a room with adequate lighting levels that are appropriate for the conditions.
AS FEATURED ON:
AS FEATURED ON:

By: Dmytro Shevchenko

The QWERTY keyboard layout is very popular.

By: dell

Typing courses are designed to help people pick up the basics of typing quickly.

By: antiksu

Touch typing is much more effective than the "hunt and peck" technique of typing.

By: Kurhan

Typists rely on muscle memory to know that their hands are in the right place.