Web streaming is the process of delivering multimedia — usually audio or video — over the World Wide Web. Web streaming requires three things: a media source in a format that can be streamed; server software that can stream it; and a client, or player, that can play it on a user's computer or other device, such as a smart phone or an Internet radio receiver. The client is often a plug-in that runs in a web browser, but can also be a dedicated media player. Players include features like rewind, pause, and fast forward.
Streaming media does not need to be downloaded and stored on a local computer. In fact, most of the time it cannot be saved to a computer. As media is streamed, it is stored in a temporary storage space called a buffer so that it can be viewed or listened to before the entire file has loaded. Generally, a few seconds of media are buffered before the file begins to play. Interference or a slow Internet connection can cause playback to stall if new data can't be loaded into the buffer quickly enough.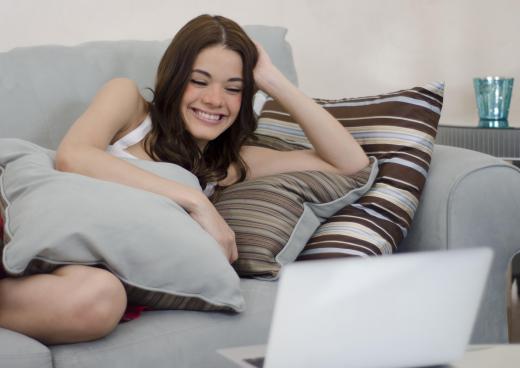 Web streaming can be on-demand or live. With live streaming, the user hears or sees the media as it is being recorded. For example, when a lecture is streamed live, the audio and video are captured as data. The data is compressed and sent from a web server to the viewer's client, which decompresses it and presents it on the screen and through the speakers. The viewer can watch the lecture nearly in real time, even if it's taking place halfway around the world.
With on-demand web streaming, the media doesn't start to play until a web user requests it. Services such as YouTube and Vimeo provide on-demand web streaming: A user chooses a video to watch, and it plays in the user's media player. As with live streaming, the video is not saved to the user's hard drive, but stays on the web server. It can be played again and again, however, or revisited and played later.
Web streaming is most common with audio or video files, but stock quotes and other textual data can also be streamed. Streaming television and Internet radio use web streaming to deliver video and audio for entertainment, and it also has many uses in research, science, business, and education. Some of these uses include web conferencing, telemedicine, and distance education.
AS FEATURED ON:
AS FEATURED ON:

By: AntonioDiaz

Web streaming allows computer users to watch streaming media.

By: zothen

Streaming technologies allow audio, video and other files to be accessed via the web, with the help of advanced server technologies.

By: carlosseller

Web streaming can help with video conferencing.