How do Digital Copiers Work?
Digital copiers have largely replaced analog photocopy machines as standard office equipment throughout the world. The advanced technology is better for the environment than the old machines, and may also be easier to maintain and repair. By combining the functions of a document scanner and a laser printer, the device has revolutionized the field of photocopying.
Traditional, or analog, copiers work by combining a positively charged drum and negatively charged substance called toner to recreate the image of the original document on a new piece of paper. To create additional copies, analog machines would have to recopy the original each time. Digital machines work like a computer document scanner; they store the data as a file that can then be reprinted repeatedly, altered, or saved.
The printing mechanism acts like a modern laser printer. The printer quickly memorizes the entire document scanned through a Raster Image Processor (RIP) and creates the page in the raster memory. Through lenses and mirrors, a laser imprints a piece of paper with the image, which is then made visible through toner with an opposite charge.
One of the benefits of digital copiers is the ability to create multiple sets of copies from one scan. If a person needs five copies of a packet of five papers, he will only need to run the original through once and the copier will produce the copies freely. While on small jobs this may not seem like a time saver, when the person is making 100 or 1,000 copies, it enables him to walk away from the copier and work on other things while it makes completes the job.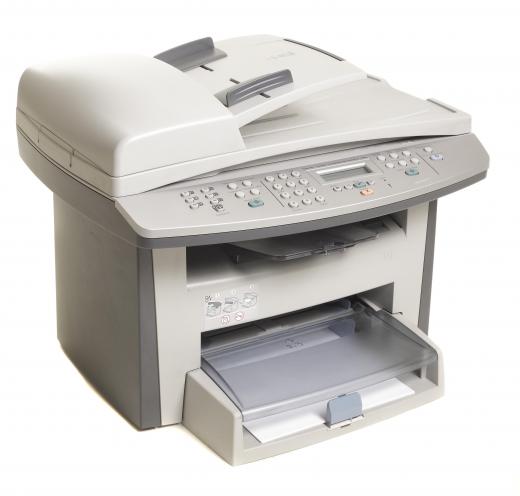 Image quality is usually considerably higher on a digital copier than an analog model. Because of the scanning technology used, duplicates can be indistinguishable from the originals. If the original is not clear or not vivid enough, these copiers also allow the user to change the intensity and saturation for the copies, so the duplicates may actually look better than the original document.
Nearly all copiers on the market currently use digital technology. Their advanced capabilities make them faster, quieter, and less time consuming to use or set up than traditional versions. Business models can be quite expensive, and the price rises with additional advanced features.
Almost all major copy machine makers use digital technology exclusively. Shoppers should consider the needs of their business or enterprise carefully they choose which copier to buy. It may be one of the most useful machines in an entire operation, and an office's administrative assistants may quickly become frustrated with a low quality machine.
AS FEATURED ON:
AS FEATURED ON:

By: Tiler84

Most businesses own an industrial copy machine, which allows employees to make copies or prints in large quantities.

Personal printers often include a digital copy or scanner system, allowing people to make copies at home.

By: Roman Samokhin

Digital copiers are able to print a copied image onto a new sheet of paper.