How do I Choose the Best Fiber-Optic Ethernet Converter?
In order to chose the best fiber-optic Ethernet converter, be sure that you understand what you need from this piece of equipment. The specifics of the fiber-optic system will make the selection of the converter relatively simple because the differences between converters have more to do with technical differences than differences in the quality of the device. Distance of signal boost, type of fiber-optic connection, speed, and power source are the most important considerations when choosing a fiber-optic Ethernet converter.
One thing to think about when choosing a fiber-optic Ethernet converter is the distance that the signal needs to be boosted. Converters have different distance ranges, and high-end converters can transmit an optical signal through many miles of fiber-optic cable. The price of the converter is affected by its range, so buying only what you need will help make the converter more economical.
Multi-mode and single-mode are also options in converters. Single-mode cable can carry an optical signal ten times further than multi-mode cable, though it is more expensive. If the optical cables are already in place and the only thing needed is the fiber-optic Ethernet converter, the type of cable will dictate the type of converter you need. There are also converters available that work with both types of cables.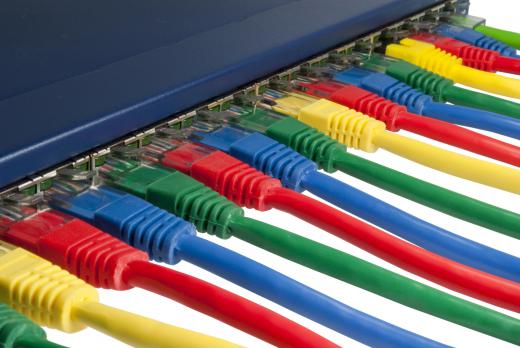 Transmission rate is another consideration when selecting a fiber-optic Ethernet converter. These devices come in standard speeds of 10/100 or 10/100/1000. 10/100 means that the converter receives at a rate of 10 megabytes per second, which it converts to a rate of 100 megabytes per second. For years, this was the highest transmission rate available, but developments have led to rates of 1 gigabyte per second across the optical fiber.
Different types of converters are also powered from different sources. They can be designed to plug into a wall socket or to pull power from an electronic device. Choosing how to power a fiber-optic Ethernet converter is a matter of which method is more convenient for you. If electrical outlets are in short supply, it may make sense to get a converter that can use a universal serial bus (USB) connection to receive electrical power.
AS FEATURED ON:
AS FEATURED ON:

An Ethernet cable.

By: tr3gi

Ethernet cables plugged into an Internet switch.

By: akeeris

It may be a good idea to get a converter that can use a USB connection.