How do I Choose the Best Long-Range Walkie Talkies?
The best long-range walkie talkies are handheld transceivers that are equipped with the appropriate characteristics to accommodate your specific needs. Many companies worldwide manufacture walkie talkies that vary in communication range, special features and price. You should compare battery life, communication clarity and number of channels available in various models. Certain walkie talkie systems also require that you get a radio operator's license to be in compliance with communication laws. Communication laws vary from country to country, and a two-way radio that is accepted for public use in one location might be prohibited in another.
The simple push-to-talk button is basic on most long-range walkie talkies. Most design versions include clips for hands-free portability, and one type allows users to wear the device as a pendant or as a wristwatch. These walkie talkies, along with earbuds, headsets, over-the-ear headsets and a voice-operated microphone (VOX), provide hands-free communication capabilities.
Battery life is key factor in determining the best walkie talkie for your needs. Lithium ion batteries typically last longer than conventional alkaline ones. Many walkie talkie systems use rechargeable, nickel-metal hydride (NiMH) batteries, providing eight or more hours of usage on one charge. The number of features and weather conditions also affect battery life. Some long-range walkie talkie designs include power-saving features that ensure optimal battery performance.
Walkie talkie range, or the maximum distance of communication, varies with the amount of power the transceivers produce. A 0.5-watt system might require users to be within 100 yards (91.4 m) of each other, while a 5-watt system might extend that distance up to 10 miles (16 km). The maximum communication range is generally determined under perfect conditions, meaning that there are no forms of obstruction between the two walkie talkies. When buildings are in the way, the range of indoor communications is typically reduced dramatically because of the various elements of building construction.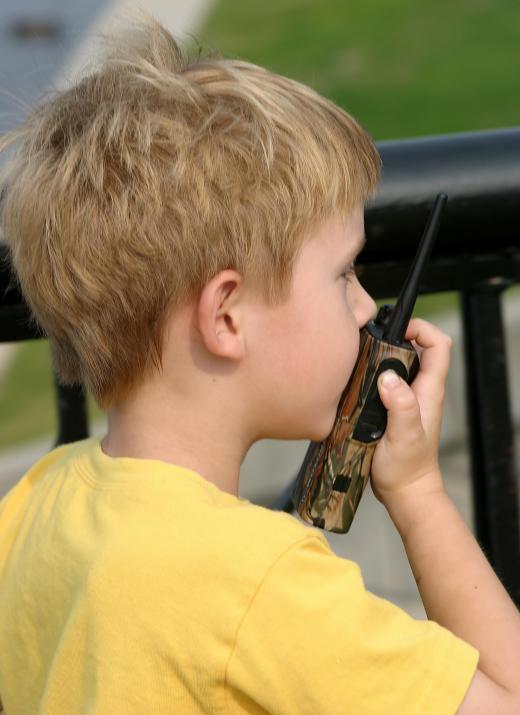 Long-range walkie talkies receive and transmit signals over a radio frequency. Usually, they use the ultra high frequency (UHF) band and frequency modulation (FM). Each walkie talkie channel represents a different frequency, and some systems have one or two channels, while other transceivers are equipped with more than 20. Some channels are acceptable for general public use, but others require a professional radio operator's license. Certain frequencies are barred from public use in various regions of the world.
Manufacturers design long-range transceivers with a variety of special features. Some contain clearer sound modulation and noise-suppressing capabilities for use in loud environments. Dust and waterproof models enhance durability for outdoor use. Some units contain global positioning systems (GPS), weather advisory functions, flashlights and thermometers.
AS FEATURED ON:
AS FEATURED ON:

By: timur1970

Considerations when selecting a long-range walkie talkie include battery life, communication clarity and number of channels.

By: Christopher Dodge

Most walkie talkies feature the basic push-to-talk button.

By: Jamie Wilson

The maximum range capability of walkie talkies is determined under perfect conditions.