How do I Choose the Best Tablet for Handwriting Recognition?
When choosing a tablet for handwriting recognition, the user should base his decision on three specific measures: dots per inch (DPI) recognition, position report rate, and levels of pressure sensitivity. Graphics tablets with high figures on all three measures can accurately capture an individual's handwriting on a real-time basis. In the process of selecting a tablet for handwriting recognition, buyers should also test its replication of the pen-and-paper feel; the more using a tablet feels like writing normally, the better. This characteristic is usually determined by the stylus, the texture of the tablet, and the size of the writing surface. The best handwriting tablet a user can choose is one that maximizes all these features at a reasonable cost.
DPI recognition is one of the key elements of a graphics tablet. Buyers should look for models with higher DPI numbers, as these can more accurately identify the position of the stylus than those that measure lower. This plays a key role in how well the tablet can track the stylus' movement, a major consideration for individuals who want to use a personal computer (PC) for handwriting recognition.
The second key measure buyers should consider, position report rate, refers to how quickly the stylus' position is captured by the tablet and reported to the computer. This is often measured in positions per second. Some experts say that buyers should choose a tablet for handwriting recognition with a minimum of 120 positions per second. This helps ensure that motion is tracked as soon as it happens, allowing users to view the results as they write.
Pressure sensitivity, a measure usually reserved more for art applications than handwriting, can also determine whether or not a tablet for handwriting recognition is a good choice. A tablet that can detect numerous levels of pressure can more accurately recognize an individual's personal handwriting, provided the software being used supports pressure sensitivity. Tablets that detect over 1,000 levels of pressure, for example, can easily recognize the beginnings and ends of strokes, as well as the user's heavy-handedness. As with the other measures, tablets with higher pressure sensitivity numbers are often better choices.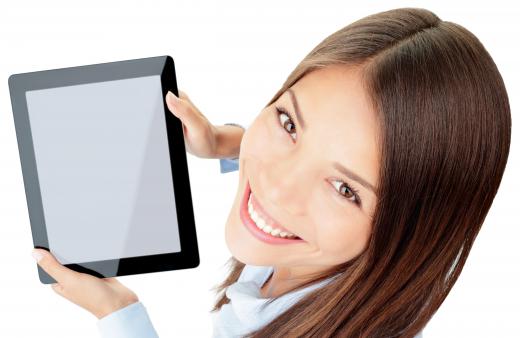 Users should also test a tablet for handwriting recognition before making the purchase, noting how natural writing on the device feels. The stylus should ideally be close to the shape, size, and weight of a conventional ball pen. The surface of the tablet should provide a measure of paper-like friction; tablets that are too smooth can alter the way the user writes. A tablet that you're going to be using for handwriting recognition should also be large enough to provide ample writing space, allowing users to write comfortably. One good practice activity is to write several full sentences to get a feel for the device.
AS FEATURED ON:
AS FEATURED ON:

By: Moultipix

Handwriting recognition can be a convenient tablet feature.

By: jura

An in-store associate may have the product knowledge to recommend the best tablet for handwriting recognition.

By: Ariwasabi

Reading customer reviews online can help when deciding which tablet to purchase.

By: Alexey Laputin

One consideration when purchasing a tablet computer is how easily the device can work with a stylus.