What is a Graphics Tablet?
A graphics tablet is an input device used by artists to allows them to draw a picture onto a computer screen without having to use a mouse or keyboard. It consists of a flat, touch-sensitive pad and some sort of drawing device, usually either a pen or stylus. Also referred to as a drawing tablet or drawing pad, the tablet is most suited for artists and those who want the natural feel of a pen-like object to manipulate the cursor on their screen. The smooth flow of this input device can be refreshing for people who find the mouse to be too jerky, and repetitive stress injuries like carpal tunnel syndrome are less likely when using this tool.
A range graphics tablet sizes are available, from smaller 3 by 4 inch (7.6 by 10.2 cm) models to larger 7 by 9 inch (17.8 by 22.9 cm) ones. There are even larger models, up to the enormous 14 by 14 inch (35.6 by 35.6 cm) tablets targeted towards professional designers and architects. Size is the major factor in determining the cost of a tablet, however, and a shopper should expect prices to ramp up dramatically at the high end of the size spectrum.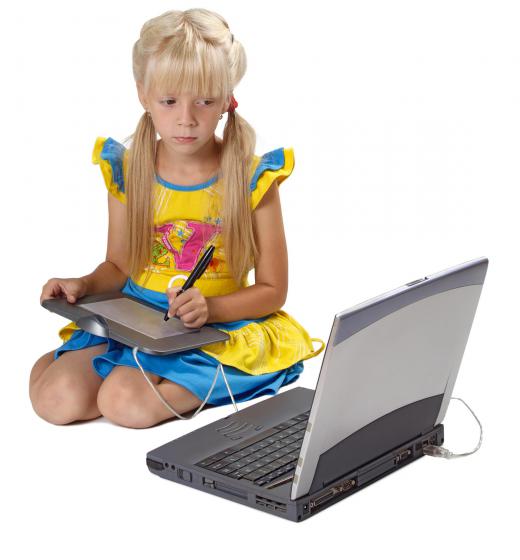 A good range of pressure sensitivity in the drawing surface of a tablet is also something that buyers should look for. High pressure sensitivity, ideally at least 512 levels, allows the user to control a number of aspects of a drawing, including color and line thickness, simply by pressing the stylus more or less heavily, mimicking drawing with an actual pen.
The stylus included with a graphics tablet is also an important consideration for the consumer. Some are corded, while others are tether-free. Corded tablets do not require batteries, but many people find that the cord severely limits their range of motion. A good stylus will also have function buttons on the side, so that the user can perform common actions, such as switching a tool in a drawing program from paint to erase, without having to use the mouse or keyboard.
AS FEATURED ON:
AS FEATURED ON:

By: Yury Teploukhov

A graphics tablet may be used to draw a picture onto a computer screen without having to use a mouse.

By: Alexey Laputin

Graphics tablets may allow users to mimic drawing with a pen, for example by creating heavy lines by pressing down with the stylus.