What is a Tablet Computer?
A tablet computer is a portable device which is usually flat and rectangular, with a touchscreen rather than a separate keyboard. The name comes from it resembling a stone tablet, such as those used for the Ten Commandments, rather than tablet in the sense of a pill. The tablet computer is often referred to as a slate for similar visual reasons.
There are several variants on the basic tablet design. A booklet is a computer which folds out like pages in a book. Usually in this set-up, one "page" is used as a display and the other as a touchscreen keyboard. Though a booklet format usually makes the computer thicker, it has the advantage pf the screens not being exposed when folded away, meaning there is less chance of it being damaged in transit.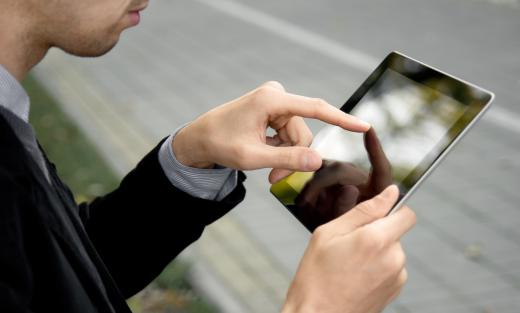 A convertible tablet, or convertible notebook, has a touchscreen which can also be swiveled around and stood up, revealing a traditional keyboard. This causes the machine to resemble a traditional notebook computer. The device can be used like a tablet when space is tight, while retaining the benefits of a notebook. The main drawback of such devices is that the connection between the screen and the keyboard is more vulnerable to breaking.
Most tablet computers run a customized version of widely used operating systems. These versions are specially designed to make best use of touchscreens and may include support for input devices such as a stylus or graphics pen. Generally, the computer will have lower specifications than a comparable notebook, so the operating system may be designed to reflect this.
The tablet computer became the main aim of a scheme dubbed One Laptop Per Child. This initially aimed to get low-cost laptops to children in developing nations. The scheme's management later decided it made more sense to work on a tablet computer, as this could be made with no movable parts or access to the inside of the machine, making it safer and more durable for a user base of children.
In 2010, Apple announced it was producing its own tablet computer, the iPad®. At the time, it was expected the release would attract many first-time tablet users and in turn help the entire market to grow as people became interested in the device but wanted a cheaper alternative from a rival company. Critics of Apple's device said it lacked several important features such as the ability to run more than one application at the same time.
AS FEATURED ON:
AS FEATURED ON:

By: ?

A tablet computer is a thin, mobile computing device.

By: m.schuckart

Tablet computers run programs that are downloaded from the internet.

By: Tombaky

Tablet applications may include weather information.

By: georgejmclittle

Tablet computers are increasingly replacing laptops in certain situations and settings.

By: Ariwasabi

Tablet computers are often used to read e-books and watch downloaded movies.