How do I Choose the Best Touch Screen Tablet PC?
After several years of slow growth, tablet computers are enjoying increased popularity in the wake of the Apple® 2010 iPad® launch. While Apple® tablet sales have gotten off to a brisk start, Android®- and Windows®-based tablet PCs are slowly entering the market. The iPad® may the best choice for users who are already familiar with the iPhone® and want a larger device for surfing the web, handling email and using light applications. Users who want a more flexible operating system on a tablet may want to opt for an Android® device. A Windows®-based touch screen tablet PC may be the best choice for buyers who need to use more full-featured applications or wish to use a stylus to perform design work.
The iPad® has quickly built a large install base since its launch. The device is essentially a larger and more powerful iPod touch®, and the 2011 model adds more power and front- and back-facing cameras. The iPad® is ideal for customers who are already familiar with iOS® and the iTunes® marketplace. In general, the battery life of an iPad® is excellent, and the device's app store contains quite a bit of software optimized for a touch screen tablet PC.
Many new tablet models running the Google® Android® operating system are being developed in 2011, and a few have made it to the marketplace. Low-cost tablets running smartphone versions of Android® were released in 2010 and early 2011, but consumers may want to consider whether they want a smartphone version or a tablet PC running an operating system optimized for the larger form. Android® tablets offer many of the same advantages as the iPad®, as well as more flexibility in connectivity and customization.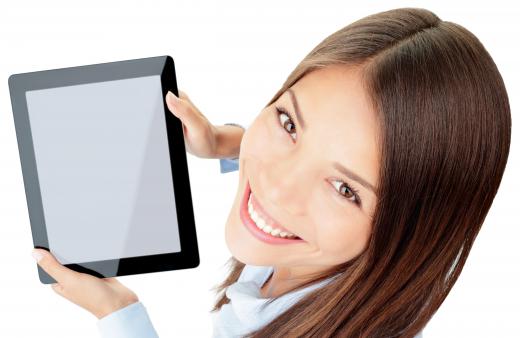 Users who need the power and versatility of a laptop or desktop computer may opt for a touch screen tablet PC running a Windows® operating system. These types of tablets have been on the market for a relatively long time and have been adopted in workplaces such as hospitals and warehouses. Designers and artists favor models with styluses and digitizers, although these tend to be the most expensive entries in the market category. Consumers considering a Windows®-based touch screen tablet PC may want to wait until more Windows 7® tablets are available.
Keep in mind that tablet PCs are still an evolving product category. Early buyers will pay higher prices for devices that may add more features in their next revision. Tablets are an excellent supplemental computer for users who want to do some light computing on the couch or on the go. A touch screen tablet PC, with its easy-to-use interface and growing library of educational software, can also introduce children to computing.
AS FEATURED ON:
AS FEATURED ON:

By: Tombaky

Tablet applications may include weather information.

By: Ariwasabi

Reading customer reviews online can help when deciding which tablet to purchase.

By: viperagp

A user who is going to read a lot on a tablet PC may not need as many options as someone looking for more PC functionality.