How Do I Choose the Best Tape Recorder?
There many types of tape recorders, so selecting the best one can depend on why you need it. The two most common types of tape recorders use standard cassette tapes or microcassettes, and they can be used to record conversations, wildlife sounds or a variety of other audio sources. A microcassette tape recorder usually will be the best choice if you need a highly portable unit, and full-size cassettes typically offer longer recording times and better audio fidelity. If you already have cassettes of one size or another, that might help you make the choice. There also are other features to consider when looking for a tape recorder, such as noise canceling, sound-activated recording and multiple recording and playback speeds.
Tape recorders are devices that can be used to record audio signals onto magnetic tape. These devices were once very popular for both professional and consumer use, although many applications have trended away from magnetic tape to a variety of digital storage technologies. Tape recorders are still available though, if you are interested in purchasing one. The first decision you will need to make is what type of tape recorder you need.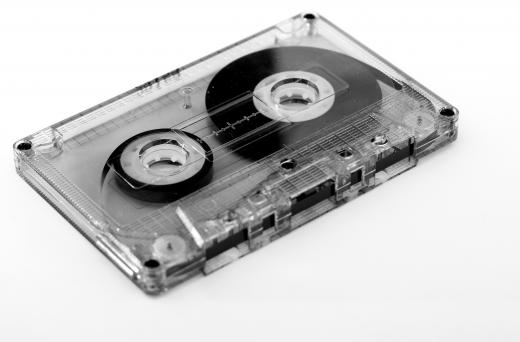 Consumer tape recorder devices are available in full size and microcassette size, both of which can be well suited to recording voices and other types of audio. If you find portability to be an important consideration, then you might choose a microcassette recorder. You might also want to pay attention to factors such as recording time and audio fidelity. Some microcassettes use very thin tape that allows recording times similar to regular cassette tapes, so you will need to check the specifications on each product that you evaluate.
After you have settled on a cassette format, there are other features that might help you choose the best tape recorder. If you plan on primarily recording voices, then you should select a device that is designed for that purpose. Some tape recorders include circuitry that allows voices to be recorded much more clearly than other sounds. Other recorders have noise cancellation features that can help cut out background noise.
Another useful feature that you might look for in a tape recorder is sound-activated recording. This is a feature that allows you to turn the tape recorder on, set it to record and then leave it alone. The device will then sit idle until it detects any sounds, at which point it will start recording. This feature usually allows the tape recorder to pause when no sounds are detected as well, which can help you avoid wasting tape without manually starting and stopping the device.
AS FEATURED ON:
AS FEATURED ON:

By: Radoslaw Maciejewski

A standard audio cassette.

By: dextorth

Tape recorders are devices that can be used to record audio signals onto magnetic tape.

By: Aleksey Sagitov

Tape recorders have become less popular as digital recording technology has advanced.