How do I Choose the Best Walkie Talkies for Kids?
There are many kinds of great walkie talkies for kids. The best choice for you will fit your needs, your budget and your style. There are walkie talkies available for children age 3 and older. Walkie talkies also have a variety of distance ranges and durability.
Before you buy, think about the use of the walkie talkie. Young children and older children will use walkie talkies differently. There are walkie talkies for almost every age group, excluding only infants.
When choosing walkie talkies for kids that are very young, age 3-5, you might need only a toy walkie talkie. These do not actually function for communication, but they allow the child to pretend. If you choose this style, make sure that there are no small parts that may pose a choking hazard.
Your budget is another factor in your search for the best walkie talkies for kids. There's no reason to buy the most expensive, professional-grade walkie talkie for a child, but the least expensive walkie might be a disappointment. A cheap walkie talkie probably has a short range and very poor durability. You can spend a little more money to get a better quality walkie talkie that will last longer.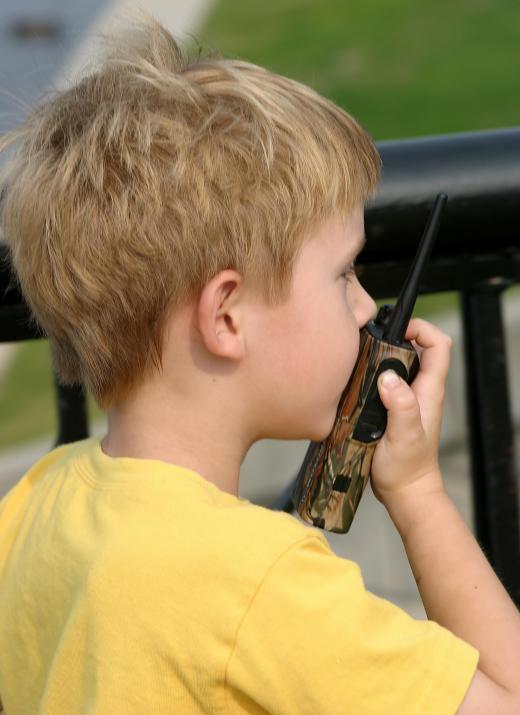 Older children will typically want a walkie talkie that can function well over a distance covering several city blocks or a neighborhood. Most inexpensive walkie talkies for kids have a range of up to a mile (1.6 km). This is fine for talking to a friend across the street or playing spy games in the yard. Walkie talkies that have popular cartoon characters or other licensed designs often fall into this category.
If a child wants to use the walkie talkie for longer distances, you'll need a more sophisticated model. These might be a little more expensive. The advantage is that the walkie talkie will continue to be useful to the child for many years to come. There are walkie talkies that transmit well up to 36 miles (58 km).
Walkie talkies for kids come in three basic styles: handheld, headset and wristwatch. The handheld model has a push-to-talk button and sometimes a belt clip for carrying. The headset fits like headphones and has an attached, adjustable boom microphone. The wristwatch, arguably the coolest of all, is a watch and walkie talkie in one. The traditional walkie talkies have the best distance ranges, but the wristwatch might be more difficult for a child to lose because it is strapped onto his or her wrist.
AS FEATURED ON:
AS FEATURED ON:

By: sonya etchison

Most inexpensive walkie talkies for kids have a range of up to a mile.

By: Jamie Wilson

Some walkie talkies can transmit up to 36 miles.

By: Christopher Dodge

Children should not be given walkie talkies that can pick up and transmit across bands used by emergency services.