How do I Convert AVI to DVD?
Audio Video Interleave (AVI) is a Microsoft® multimedia container format that holds both audio and video streams for synchronous playback. Before you can burn AVI files, you must convert AVI to DVD Video Object (VOB) files.
Like AVI, VOB is a container format that holds audio, video and subtitle streams for DVD discs. VOB is a Motion Picture Experts Group (MPEG) standard, but has unique specifications that are not shared by all MPEG streams.
In addition to the VOB file, a DVD disc normally has an Information (IFO) file that provides navigational data for the DVD player — essentially a map for locating chapters, subtitle streams, audio streams, special commentary and so on. The final type of DVD file is the Backup (BUP) file, which mirrors the IFO file in case the latter becomes unreadable due to surface damage of the disc from scratches, for example, or from improper handling. When you convert AVI to DVD, the necessary files will be created along with two title set (TS) directories: VIDEO_TS and AUDIO_TS.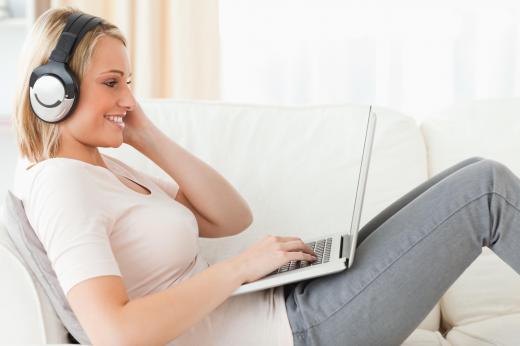 In order to convert AVI to DVD, the files must be re-encoded to the proper format. Various software programs are available to do this, with some being faster than others, but this isn't a quick process. It can take up to four hours or more to convert a two-hour movie, depending on the software chosen and optional quality settings. Then the resulting VOB files must still be burned to disc, which can take an additional 20 minutes. Some programs that convert AVI to DVD also burn the resulting files to disc, while others convert only, then automatically open a secondary program such as ImgBurn© to do the actual burn.
If interested in creating a custom menu, one can use configuration settings to create chapters for easy navigation through the movie. A title can be manually added to each chapter, and a still shot can be chosen to represent the chapter visually on the opening menu. Menu background can also be customized, either with provided stock images or by using an image file from your computer. Converters that also burn might include optional menu creation, or you can burn the files with a different program if need be. Menu creation options are easier to find and more plentiful in shareware programs like Nero Burning ROM®, but can be found in freeware.
Some freeware programs for Windows® that will convert AVI to DVD include eRightSoft's SUPER© (Simplified Universal Player Encoder & Renderer), TrustFm's AVI2DVD© and the easy-to-use, open source DVD Flick©. Linux® and Mac® might try Avidemux©, also open source. Free burners, if required, include ImgBurn© for Windows® and Linux®, CDBurnerXP© (works in Vista® and Windows 7® too), and Burn©, an open source burner for Mac® OSX.
AS FEATURED ON:
AS FEATURED ON:

By: Georgios Alexandris

DVD binders are handy for someone who burns a lot of DVDs.

By: WavebreakmediaMicro

Someone interested in converting AVI to DVD format will need to download conversion software.