How do I Convert M4A to WMA?
Users can convert M4A audio files to WMA audio files by downloading M4A to WMA audio conversion software and submitting the desired music file to the program for conversion. The M4A audio file format is found most commonly on iTunes files. One method of converting M4A to WMA files from iTunes is to burn the files to a CD and then run the CD using Windows Media Player. The user tells Windows Media Player to rip the files from the CD, and in the process, it converts the files to WMA format.
Those who choose to convert M4A to WMA without using iTunes should purchase or download an M4A to WMA audio converter. Basic conversion software is available for free online and several sites sell more advanced conversion software. The user should check that the converter says it can convert M4A to WMA. Most converters can convert several different audio formats and it's up to the user to choose what format he wants to convert to.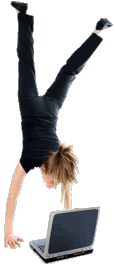 When downloading software, users should look for a trusted source. They should only download from websites they've used before or a site that a trusted friend recommends. While most software is legitimate, some software is malicious and can spread a virus or other harmful file to the user's computer.
After downloading and installing the converter software, the user runs the software and uploads the song he wants to convert. This process is much like opening a document in a computer program. Instead of clicking "File" and "Open" the user will click "File" and "Upload." The program may already have an "Upload" button at the bottom to make the process faster.
Once the M4A file is uploaded into the music converter, the user chooses what format he wants to convert the file to. A drop down menu allows him to choose "WMA" from the list of possible file formats. Several other options and features are included on the software, but knowing how to upload the file and choose the new file format is all the user needs to know for the process to work.
Finally, the user clicks the "Convert" or "Start" button and the converter will ask him where he wants to save the file. He chooses a destination, such as a specific file folder or the computer's desktop. The converter then begins the process of converting the M4A file to WMA format. When the conversion is complete, the file is in WMA format and will no longer work in programs that play M4A audio files.
AS FEATURED ON:
AS FEATURED ON:

Woman doing a handstand with a computer