How Do I Watch TV Anywhere?
There are a couple of different ways to watch TV anywhere, and the strategy and tools you use will depend a lot on the sort of programming you're trying to access. When people talk about watching TV anywhere they're normally referring to the idea of accessing the programming on their home television remotely, either on a set located somewhere else or on a mobile phone, tablet, or other portable device. This often requires both a specialized connection at the home unit as well as the permission or authority of the broadcaster more generally. Some cable companies also allow customers to access television programming over the Internet, usually with a password or other keyed validation. This sort of access won't normally stream to another television, but can be good for on-the-go watching via phone or tablet. A number of shows are also streamed online, either for a fee or with a subscription; these aren't always available in real time, but they can frequently be watched on demand or repeated at will. Though the technology is advancing in the television arena, it can usually only grow as fast as local laws allow. As a result, things that are possible in one place may not be universal, as much because of broadcast laws as technological capability.
Basic Concept
Television, when it was first introduced to the public, was largely a realm of fixed content: broadcasters decided what was going to air, when, and on what channel. The invention of recording devices allowed users to basically save content to watch later, and the technology has only grown and developed since then. Modern cable television companies regularly provide, for a fee, the ability to do things like record and store shows for later viewing, even while something else is playing.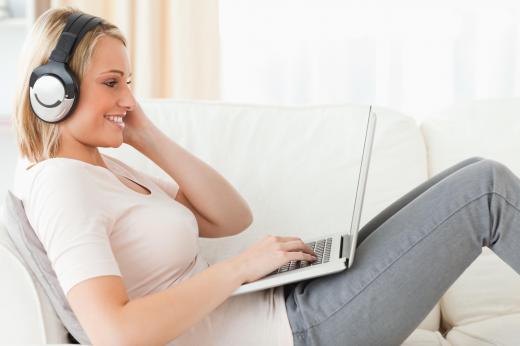 The ability to watch content anywhere, whether stored or live, is still evolving. In most cases shows are fixed on the cable box or router that's physically attached to the user's television. Adding routers and other Internet-enabled tools can make stored content more mobile, though, which opens the door for more universal viewing, as well as viewing simultaneously across devices.
Creating a Hub
Physically relocating a television signal from one set to another usually requires a dedicated signal-switching device. Depending on where you live you might have a couple of options, but most of them work the same way. First you'll need to install the box or card to the cable box where your content is stored at home. What this does is to basically make your home television the "hub" or central command center for all streaming operations.
In most cases, the hub is the ultimate controller, and in these sorts of setups it's usually only possible for all connected televisions to be watching the same programming. As such, if you change channels on the home TV set from a remote location, anyone watching at home will have the channel changed as well. The same is usually true for programs that are recorded or stored. In most cases the main idea is to allow people to access their preferred channel lineups and content from anywhere, not to allow multiple users to simultaneously use the same connection for independent means.
Mobile Downloads
In many cases it's also possible to access cable TV content over a wi-fi connection and view it directly from a variety of mobile devices. This is conceptually a bit different than sending it to another television, and in most cases the transmission requires a secure and stable Internet connection. It also usually requires devoted software, and in most cases cable providers require a range of passwords and authentication devices to prevent abuse.
The availability of these applications is limited to certain operating systems and mobile device capabilities, and may also vary by region and cellular service provider. Furthermore, some cell phone providers offer the option of viewing television over the phone without using any additional devices, though there is usually an additional fee for the service.
Streaming Online
Another option for those who want to watch TV anywhere is certain websites that have obtained the necessary licenses to offer television programming. The websites of major networks often offer this option as well. The image is usually not as high in quality as when viewed on TV and shows are rarely if ever available in real time, but the services can allow viewers to catch up on shows that they may have missed. All that is required is an Internet connection in most cases, through some sites are fee-based and charge a fee either for access generally or per show viewed.
AS FEATURED ON:
AS FEATURED ON:

By: Monkey Business

Usings connector cables, viewers can use their their home TV as a central hub to view programming from other sources.

By: WavebreakmediaMicro

Streaming devices allow people to watch TV on their computer.