What are Conference Calls?
In the corporate world, there are actually two different meanings attached to the term conference calls. One addresses the technological aspects, while the other is more concerned with financial matters. Both definitions of conference calls are very important when trying to conduct business over vast distances.
The first definition of these calls should be very familiar to those who spend at least part of their day attending business meetings. Before the advent of modern telecommunications, if an executive from New York wanted to discuss a new project with engineers in California and salesmen in Chicago, he or she would have to book a meeting room, pay for room and board, arrange for travel and hold marathon work sessions for maximum benefit. As long-distance communications improved, the concept became more and more appealing.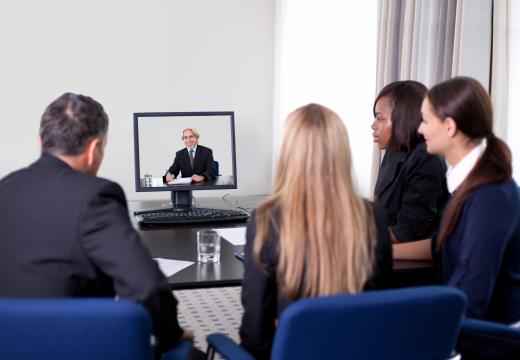 Instead of physically meeting in one location, executives can now discuss company plans through conference calls. A group of engineers in California can participate in a multi-line call with executives in New York through a special conference phone with a loudspeaker. These types of conference calls can save a company literally thousands of dollars in travel expenses and time lost in transit. Modern versions can even include video links, as well as real-time email communications and fax transmissions.
The second definition of conference calls arose from the world of finance. One of the most important times in a company's fiscal year is the quarterly or annual announcement of stock performance. This information is usually considered so sensitive that only a select number of company representatives can deliver it to the stockholders. In order to release this information in an organized manner, most publicly-traded companies use conference calls.
Stockholders and any other interested parties may receive written notice of upcoming calls, or this information may be posted on the Internet. The CEO of Microsoft, for example, may announce a conference call at 2 p.m. PDT on September 22, 2015. At that time, stockholders and Microsoft staffers may all be allowed to hear the official profit and loss statements during the call. These calls are not the same as stockholder meetings, however. They are often very direct and one-sided. Any analysis of the information released during financial conference calls is usually done after the fact. On any given weekday, there may be hundreds of these calls placed worldwide.
AS FEATURED ON:
AS FEATURED ON:

Video conferencing may help reduce a business's travel expenses.

By: Devyatkin

Video conference calls may be conducted through the use of a webcam.

By: imageegami

Professionals might be involved in a conference call while traveling for business.