Phone jacks are wall-mounted terminals which are used to connect a telephone to outside wiring, which leads eventually to a central phone system. Much like power outlets, the configuration of phone jacks varies from nation to nation, but it is usually standardized within a country. Many homes have at least one phone jack, with larger homes and businesses usually having multiple phone jacks. Phone jacks are integral to telephone connections, and they are also often used for data connections as well. To connect to a phone jack, a consumer uses telephone cord with a plug which matches the phone jack.
When telephones first began to be widely used, they were usually hard wired into the wall by the telephone company. As telecommunications expanded, this became impractical, and telephone companies designed customized jacks for their customers. Eventually, the use of a standardized jack which would allow customers to switch easily became widespread. In the United States, most private homes have an RJ11 type jack, which allows a connection for a single phone line. An RJ14 allows two, and numerous other configurations are available for more lines. All of the RJXX style jacks have six pins, which are utilized differently depending on how many lines are run through the jack.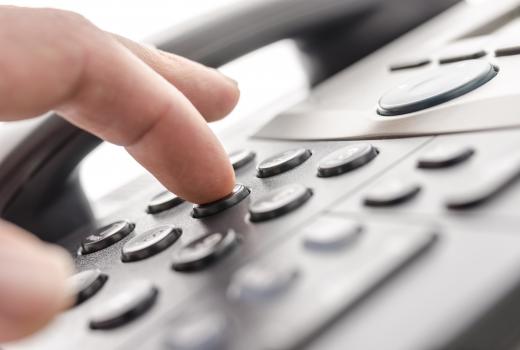 As a general rule, the phone company is responsible for maintaining outside wiring and connections. The outside wiring leads to a switching box on the exterior of the house, which has lines running inside to the phone jacks. Depending on the region, a landlord is usually responsible for the inside wiring for one jack only. Additional jacks are the responsibility of the tenant. Many phone companies offer service plans which include installation and maintenance of additional interior phone jacks.
When a new home or business is built, the contractor typically installs a multitude of phone jacks, to ensure that the telecommunications needs of the clients will be met. This saves a great deal of time and energy later for all parties, as does installing ample electrical outlets. Installing additional phone jacks in a home is relatively easy, and many consumers are able to do it themselves. When supplemental lines are installed, it may be necessary to upgrade the wiring to the phone jacks of a home, depending on how old they are and how they were installed. Consumers who are not comfortable handling their own telephone wiring can pay an installation service.
AS FEATURED ON:
AS FEATURED ON:

By: Gajus

Phone jacks are needed for landline phones.