What are the Different Types of Blog Themes?
Blog themes are essentially templates or layouts that can be used on a blogging platform. Many themes differ only in terms of colors and arrangement of elements, but some are designed for specific types of blogs, such as photo blogs, video blogs, or other types of content blogs. Themes are often sorted by color, influence, or design. There are also differences between blog themes designed for different blogging platforms. As blogging sites advance, the capabilities of blog themes typically advance as well.
When setting up a blog, a person must usually choose a blog theme that will determine the way the blog looks to people who view the blog. The theme may determine how page elements are set up, what font and colors are used for text, and what headers or images are displayed. Generally, when someone is installing or setting up a blog, the blogging site will offer a number of different theme options, although it is also possible to design a theme or download it from another website.
Themes often differ primarily in types of colors, images, and general design used. Most blog themes are set up for personal blogs, although there are more professional blog themes available as well. For blogs that do not have text as the primary component, special themes can be used that work best with photos or video content. Most themes have the ability to accommodate different types of media.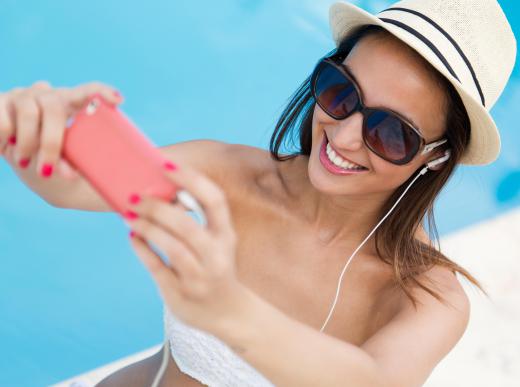 Some people change blog themes frequently, so seasonal themes are common. Others tend to stick with the same theme for many years, so unobtrusive themes are also often found. When searching for blog themes, it is important to make sure that the chosen theme is compatible with the blogging platform, as themes are designed to work with specific types of blogging programs.
The capabilities of blog themes depend entirely on the level of advancement of the blogging platform. Skilled designers can make a theme that is aesthetically pleasing on any platform, but the types of elements that can be included in the theme depend primarily on the platform itself. As blogging sites advance and change, so do themes. It is likely that themes of a more fluid nature or those that respond to touch will be common as technology advances.
If someone is skilled, he can even design a blog theme that will match his needs precisely and that he can be sure will not be found anywhere else on the Internet. Most themes include elements that can be personalized, so even if someone cannot design her own theme, she can typically create a relatively unique look for her blog. When having a unique theme is imperative, a designer can be hired to create a specific theme.
AS FEATURED ON:
AS FEATURED ON:

By: tomer turjeman

Blogs are a way for artists to show off examples of their work.

By: nenetus

Blogs may be used to document a person's vacation or travels.

By: Rawpixel

Blogs are placed in a blog directory based on what their main themes are, and may be placed in one or more categories in a directory tree.

By: micromonkey

Some blogs focus on giving relationship advice.

By: Andres Rodriguez

Foodie blogs might be used to review area restaurants.

By: yanlev

Chefs might start a blog to demonstrate the preparation of various recipes.

By: Monkey Business

Blogs might be geared toward encouraging people to get into better shape.