What Are the Different Types of Desktop Computers?
Desktop computers come in several different configurations, and can be purchased for home or office use. The type of desktop computer a person may opt to purchase depends on its intended use and sometimes personal preference. The difference between desktop computers is often cosmetic, although some types are better suited to running different applications and tasks. Although they lack the portability of laptops, PCs are often considered to be more functional, less costly to repair and able to carry out more tasks in some cases.
All-in-one desktop computers are an option for people who don't want to have to deal with a lot of external peripherals. Some Macintosh® computers are an example of this type. The monitor, hardware and case are combined into one piece, and a mouse, keyboard and printer are often the only things that need to be attached to an all-in-one computer. These can often save space compared to a full sized desktop computer, but their compact nature makes them difficult to repair or upgrade. All-in-one computers are more common in home computing, and they are often one of the more expensive desktop options.
Full sized desktop computers are the most widely sold type of computer in the world. The hard drive and components are kept in a case that's separate from the monitor, which is attached to the case along with the mouse, keyboard and other peripherals. The tower containing the hard drive can be kept on the user's desk or tucked away on the floor to save space. These are often the easiest desktop computers to upgrade, and they tend to need fewer repairs than laptops and all-in-one systems.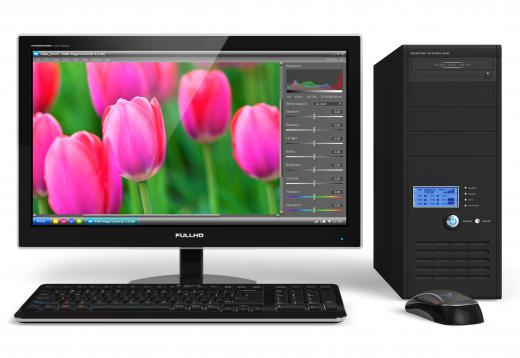 Compact computers are often the best option for space saving. These are sometimes call slim computers, and they are about half the size of a full sized desktop. They're very similar to full sized computers in terms of functionality and cost, but the smaller design can make them difficult to repair. Owners will often have to take a compact computer to a repair store to have it fixed or upgraded.
Gaming desktop computers can be the most expensive and powerful computer option. These are intended for home use, and come equipped with more RAM, more powerful graphics cards, larger towers and so on. They often have multiple hard drives, and are designed primarily for computer gaming. Gaming computers will also often have a larger power source than other types of computers, in order to run all of the hardware.
AS FEATURED ON:
AS FEATURED ON:

By: Peter Atkins

All-in-one computers generally house the internal hardware inside the monitor.

By: Oleksiy Mark

Globally, more full-sized computers are sold than any other type.

By: Alexey Laputin

Desktop computers usually come with a specifically designed keyboard.

By: merydolla

Desktop computers vary in number, location and capacity of hard drives.

By: tommywyy

Macintosh computers and software are the product of Apple Inc.