What are the Different Types of Diagnostic Tools?
A wide range of diagnostic tools are necessary to diagnose and repair computer problems. Diagnostic tools are divided into two major types, hardware and software. Hardware diagnostic tools are generally physical devices that are designed to determine the conditions of various computer hardware components. Software diagnostic tools are computer programs that are used, either in or outside of a system, to determine the causes of software and hardware malfunctions within computer software and hardware. Both software and hardware tools must often be used in diagnosing and repairing computers.
A power supply tester is a hardware diagnostic tool that is used to determine whether a computer's power supply is working correctly. There are different types that not only work in different ways, but are sometimes built only for specific kinds of power supplies. By plugging the tester directly into the power supply, the user can test computer power supplies and diagnose specific faults, usually via an LCD screen.
Another hardware diagnostic tool is the POST (power-on self test) card, or BIOS (basic input-output system) POST card. These are used mainly to figure out why a computer is not booting up. The user can plug the card into a computer's expansion slot, through which it receives a two-digit error code from the BIOS of the computer. These tools will not work if the BIOS of the computer is nonfunctional.
Loop-back plugs, or adapters, are another type of hardware tool. These simple devices are plugs that are designed for many of a computer's specific ports. When plugged in, they will output simple electronic signals that the user can decode to find various computer bugs while running electronic tests. Many more specialized hardware tools exists, some of which only work with only certain computer systems.
A major example of a software diagnostic tool is a type of program that is used on a majority of computers today, the anti-virus program. This is a type of tool that is used to continuously monitor a computer system for viruses and other computer problems, and attempt to fix them should they arise. Anti-spyware programs are similar and will diagnose computers to check if they have any unwanted programs on them that were designed mainly to cause harm.
Many more computer software diagnostic tools are built to test and regulate many aspects of a computer system. Some, for example, will monitor the temperature of various hardware components and let the user know when they have become too hot, or increase various fan speeds to compensate. Many similar diagnostic tools are running on computers from the time they boot until they are shut down, and many of these are referred to as computer services.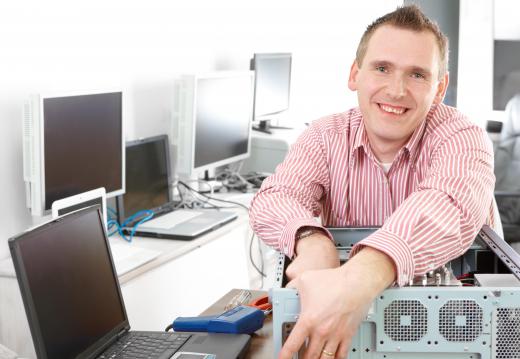 These other system monitoring software tools can check for errors in hard drives, RAM, system registries, and more. When a computer that isn't working needs to be tested with software, it is often run from an outside computer, such as a laptop. A repair technician's laptop is typically loaded with many of these diagnostic tools, so that the diagnosing computer can itself be a diagnostic tool.
AS FEATURED ON:
AS FEATURED ON:

By: WavebreakMediaMicro

Diagnostic tools help computer repair workers find and fix problems.

By: silver-john

Many computer software diagnostic tools are built to test and regulate computer systems.

By: corepics

When a computer that isn't working needs to be tested with software, it is often run from an outside computer.

By: mickyso

Sometimes, it might be a good idea to have a computer professional perform a diagnostic check, and any repairs that are required.

By: Monika Wisniewska

IT professionals may use hardware diagnostics to identify failing computer parts.

By: RZ

Some diagnostic tools will advice changing fan speeds to prevent a computer from overheating.