What are the Different Types of Pager Alert Systems?
Pager alert systems refer to a variety of devices that transmit an electronic signal to a receiver unit that provides a recipient with information. While primarily used in medical or caregiver situations, pager alert systems have many other uses related to anything from weather alerts to crying infants. The common element in pager alert systems is that they provide an alert that a situation has arisen that requires action.
Caregiver pager systems are available in a wide variety of configurations. A caregiver pager might be a simple pendant with a button that, when pushed, transmits a radio frequency signal to a receiver. The receiver then might make a noise, flash a light, or both, alerting a caregiver to the need for attention or action.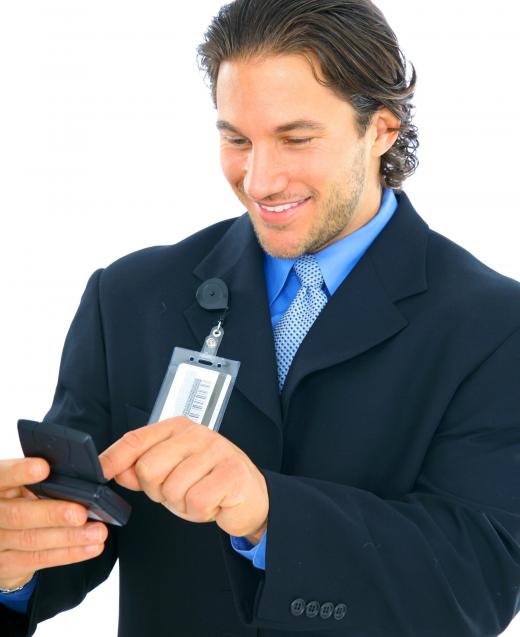 More sophisticated systems include pressure-sensitive mats that may be placed by a bed or doorway and will activate an emergency alert when stepped on. Other pager alert systems can automatically dial prerecorded telephone numbers to alert caregivers, police, or any preferred responder. Medical monitors may also be fitted with a pager alert system to send a call if a potentially dangerous medical condition arises.
Systems that are not specifically designed for caregivers include child care monitors, environmental alerts, and personal pagers. Children, especially infants, may have audio and visual recorders and transmitters in a bedroom to alert parents to emergencies. Environmental alerts may warn of tornadoes or provide other severe weather alerts automatically broadcast over a radio or triggering a municipal siren. Personal pagers are typically small devices that make a noise or vibration and might display a simple text message, although these have largely been replaced by cell phones.
Other pager alert systems include property and business alert services. Property alarm systems typically report break-ins via telephone to either a private security service or police. Business systems alert employees when entry to a store or commercial building is made, such as when a customer enters a convenience store.
The effective range of these various pager alert systems depends on the type of system and the strength of the transmission. For telephone alerts, the range is indefinite, as it is not set for radio frequency transmission. For radio frequency pager alert systems, effective distances depend on environment and transmitter power. Most caregiver pager systems have an effective indoor range from 50 feet (about 15 meters) to 300 feet (about 91 meters).
Costs of simple pager alert systems can range from the very inexpensive and go up to include very costly industrial alarm systems for break-in and fire alerts. Pager alert systems are available at medical supply outlets and some online commercial websites. Specifications and information regarding power supply requirements such as size and number of batteries, operating procedures, and effective signal range are usually available with the unit and online.
AS FEATURED ON:
AS FEATURED ON:

By: visi.stock

Technological advances made it possible for individuals to respond to pages with short messages.

By: Barabas Attila

A caregiver pager system may be beneficial to individuals caring for amputees.

By: william87

Medical monitors may be fitted with a pager alert system to send a call if a dangerous medical conditions arises.

By: Hunor Kristo

Seniors often use pager alert systems when they need assistance.

By: Stephanie Frey

Pager alert systems may be used by child care providers.