What are the Different Types of Pager Systems?
Pager systems allow people to communicate in a limited area without the need for cell phones. These devices have been used in places of business for years, and remain a reliable way to contact co-workers and employees. Hospitals, restaurants, hotels, and many other businesses use paging systems to help operations run smoothly. Generally, there are two types of pager systems — manual and automatic. Both can use any one of the three most common methods of delivering the information: alert-only, numeric, or alphanumeric messaging.
Alert pager systems simply beep or buzz to alert the user, who can then call a central number — or a number that has previously been decided upon — to retrieve a message. Numeric messaging shows the calling number and, if desired, a number to call back. It may also show a code number with a special meaning to the users. Alphanumeric messaging pager systems can be one-way or two-way pagers. One-way pagers can display a text message, while two-way pagers allow the user to respond, also with a text message.
Voice pagers are another type of system that allow a voice message to be played. These types of pagers are rarely used today because the other models have been found to be the most convenient and cost-effective. Many companies and organizations use the basic alert on-site pagers, while others prefer full alphanumeric texting capabilities. The choice of pager usually depends on the reason for the pages, how much information must be conveyed, and how quickly.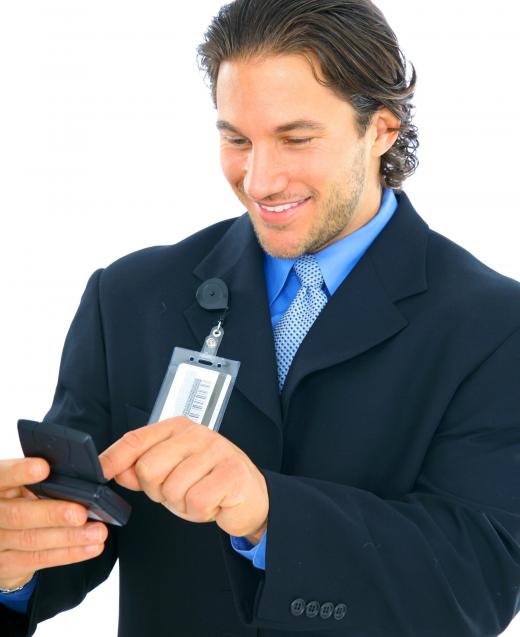 Restaurant and church nursery pagers are good examples of alert-only pager systems. When a restaurant table is ready, a pager — often shaped like a coaster — alerts the diner to see the hostess for seating. If a church nursery needs to contact a parent who is in a service, this kind of wireless paging system is sometimes used, so no one has to search the premises. Hospital pagers are often numeric or text pagers to promote speed and efficiency. These often allow the person being summoned to know instantly if the situation is urgent.
Any of these types of systems can be manual or automatic. Manual equipment requires a user to physically send each page, while an automatic system allows users to respond instantly to either a phone call or other type of information. For example, when a pager number is called in this type of system, it is automatically sent through the paging system. This can be an efficient way of handling many calls or pages within a busy organization. Automatic systems almost always offer the capability to send a manual page as well.
AS FEATURED ON:
AS FEATURED ON:

By: JPagetRFphotos

Many hospitals continues to use one-way pagers to communicate with on-call staff.

By: visi.stock

Some pagers have texting capabilities.

By: Andres Rodriguez

Pager systems are often utilized in busy restaurants to let people know when their table is available.