What are the Different Types of Printer Paper?
The term printer paper refers to any paper that is made for or characteristically used in a computer printer. Included in this category are papers made specifically for different types of printers, as well as a wide variety of sizes, weights, brightness, colors, purposes, and finishes. Without any specification, printer paper usually refers to what is usual and customary in the country and for the context and printer in question.
Certain printer types either do better with or require specialized types of paper. Ink jet paper and laser jet paper are two of the best-known types. There is also special paper for solid ink printers and for printers that take rolled paper.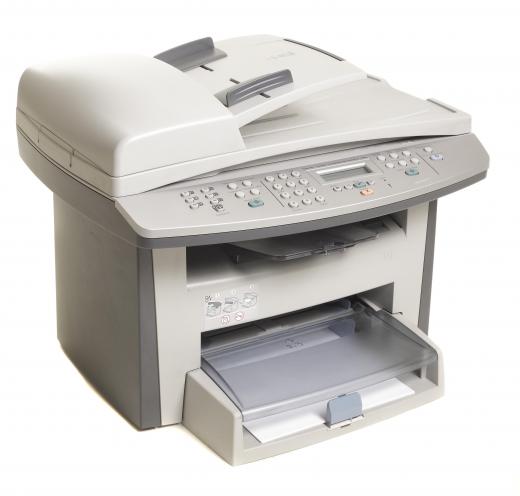 Standard paper sizes vary in different countries, and may be Letter and Legal or A4 and A5, for example. Many printers can handle a wider range of papers, including sizes that are quite a bit smaller and larger. For example, a typical business printer might be able to print on paper as small as 3 x 5 inches, or A7, and as large as Tabloid or A3. Specialized printers can accept other formats, such as the paper size referred to as wide format.
Printer paper comes in various thicknesses that may be referred to as weights or grammage and which are appropriate for different purposes. For bond paper, a thickness of 20-lbs or 75 gsm paper is economy paper. It's on the thinner side but is appropriate for everyday print and copy use, as long as it works properly with the printer. A thickness of 24-lbs or 90 gsm is mid-weight paper. It provides crisper images than economy paper, and with less show-through, it is better for double-sided printing. A thickness of 40-lbs or 150 gsm is appropriate for signs and flyers where vivid color is required. Brightness of office paper ranges from 92 to 100, with the higher end providing crisper images.
There are types of printer paper available for a wide variety of purposes. Colored paper can add to the eye-catching nature of signs and mailings. Special photography paper provides a glossy surface for printing photographs. Acid-free paper assures the longevity of the document, which will not darken or crumble. Specialized papers are also available for stationery, brochures, printing awards and certificates, and pre-punched for assembling in binders. Recycled paper reuses paper, and therefore uses fewer new trees.
AS FEATURED ON:
AS FEATURED ON:

A printer.

By: Michael Smirnoff

Bond printer paper is appropriate for everyday print and copy use.

By: simonekesh

Using recycled printer paper is an environmentally friendly option.

By: Anna Khomulo

Glossy paper is best for printing photographs.