What are the Different Types of Recordable Discs?
The compact disc, or CD, began its rise to popularity in the early 1980s and quickly became a popular medium for commercial audio recordings. In addition to being used for music, the compact disc eventually evolved so that it had the ability to be used for recording data as well. Today, there are several other types of recordable discs, and each has its own characteristics.
The first to become popular was the CD-R. In this type of disc, the data can only be stored once and will have a life span as short as 18 months or as long as 100 years. Eventually, CD-RWs gained popularity, since these are compact discs that have the ability to be erased and used to store data more than just once. Both CD-Rs and CD-RWs are widely used because they can hold much more data than a floppy disc, as well as being versatile and able to be used for a wide variety of data including music, pictures, and video.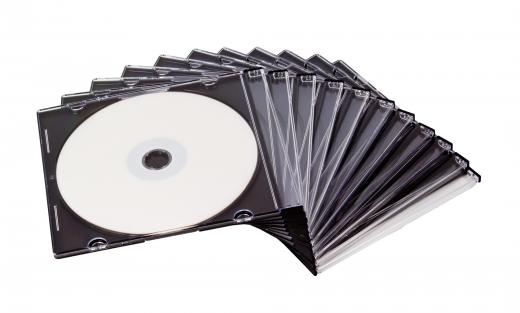 Eventually the DVD, or "Digital Video Disc," became popular along with its own versions of recordable discs, which were even more versatile and capable of holding much more data than a standard CD or CD-RW. The main two types of recordable DVDs are DVD+Rs and DVD-Rs, which can only be recorded on once. Those that can be recorded and erased upon more than once are known as DVD+RWs, DVD-RWs and DVD-RAMs. These are most popularly known for their use for recorded movies, and use dual layer technology in order to allow for a great amount of space for data.
The technology still continues to grow, as does the speed and storage capacity of these media. The types of discs that are gaining popularity today are Blu-ray® Recordable discs, also known as BD-Rs that can be recorded on once, and BD-REs, which can be recorded on multiple times. These discs hold much more information and record at much higher speeds than their predecessors, and will likely be followed by faster media with even more space to record data.
AS FEATURED ON:
AS FEATURED ON:

By: IoannisS

CD-RWs are popular because they can be erased and reused.

By: sdubrov

Floppy discs have become an outdated mode of storing data.

By: StockPhotosArt

Jewel cases may be used to prevent scratching of recordable discs.