Music CDs are compact discs which include digital audio stored in a format which is designed to work in most compact disc players, including stereos and CD drives in computers. Also known as audio CDs, music CDs are usually recorded using the Compact Disc Digital Audio (CDDA) standard, also known as the Red Book format after the color of the binding of the book which lists the specifications for audio CDs. Some manufacturers do not follow this format, which can make their music CDs difficult to play.
A typical music CD can hold up to 74 minutes of audio, with an average of around 18 tracks, depending on the lengths of the songs on the CD. The CD may also include additional material which is designed to display when the disc is used on a computer, such as music videos, album art, and other material which may be of interest. Each track is also tagged with data which will allow computers and some CD players to recognize the CD and the contents, displaying information about the track name, artist, and so forth.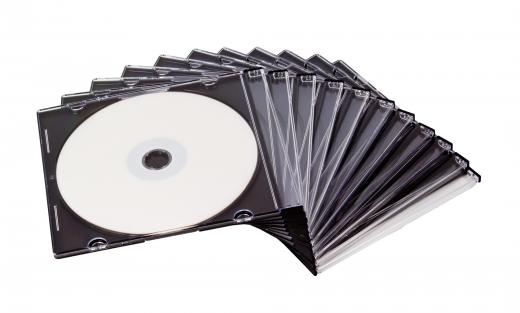 CDs are a very popular format for music sales, with most record companies producing their albums on CD. Formats such as tape and record are also available, although they are less common, and many companies also make their music available for download. A CD album can include a wide variety of content, ranging from a collection of songs from a movie soundtrack to tracks by a single artist, and many artists also sell singles with very popular works on standalone CDs.
People can also make their own audio CDs, using a CD burner and an audio library. As an alternative to a music CD, some people like to make MP3 CDs, which store audio content in a compressed format. MP3 CDs hold much more music, but the quality of the audio is not as high as a that of a true music CD, and the CD will not play in all CD players, because some players cannot recognize the MP3 data format.
Due to concerns about copying of audio content, some record companies produce music CDs with protections which are designed to prevent copying. These CDs may not play in computers, or may prevent users from copying the tracks. Certain types of copy protection violate the Red Book standard, which means that these CDs technically should not carry the CDDA logo. The music CDs also usually include a note in their packaging indicating that they have copy protection measures in place, to alert consumers to the fact that the CDs may not play in all CD players.
AS FEATURED ON:
AS FEATURED ON:

By: IoannisS

Music CDs contain digital audio.

By: Brian Jackson

Music CDs can be played using computers fitted with CD drives.

By: David Stuart

Singers record songs for music CDs with the assistance of a recording studio.

By: Csák István

Music CDs are slowly going out of style as digital music become more popular.

By: Mariusz Blach

Music companies produce some CDs with protections against copying.