What are the Different Types of SMS Tools?
There are many types of Short Message Service (SMS) tools, including programs to send and receive text messages from various operating systems, such as Windows® or Outlook®. Other tools are aimed to allow users to send messages directly from their e-mail. Another choice of SMS tools might include the option of adding various ring tones to correspond with friends on a designated list. An application, otherwise known as an app, can help users of text messaging make the most of the a service by offering different functions.
An SMS app for organizing and scheduling may be available as an SMS tool as part of a package deal. There are various inventory-type SMS tools which also help with organization. Troubleshooting can be accessed by the use of specialized troubleshooting SMS tools. Many of these programs are available for personal use and for developers as well.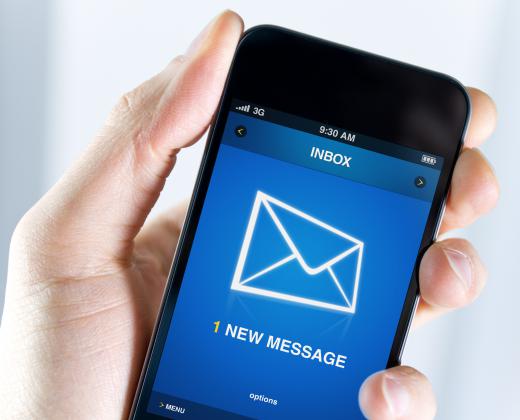 For those who are looking for inexpensive or free applications, there are programs available as shareware and freeware which enable SMS ability and SMS tools. There are various websites that have reviews from users as well. Some of these tools may include a special program that allows users to send text from their computer directly to a cellular phone. An SMS center with various options for SMS accessories can typically be found.
Some SMS tools allow the user to add these applications directly to his website or blog, which functions as a text messaging option. This type of app can be used as a message board function as well. Some of these work for use in numerous countries, which makes it a versatile tool for computer users who do networking. Many tools offer the added protection of user privacy, with mobile phone numbers not made public.
Other SMS tools may include wallpaper and background options. These apps let the user personalize her own color and pattern choices. Along with this type of personalization, some tools may incorporate other features such as photo assignment. Basically, this feature allows the user to assign a photo to a particular contact. The photo will then show up whenever a message is received from that particular contact.
SMS tools can be found through independent dealers or retailers as well as online. Many resources offer the possibility of enhancing text messaging through services and programs. Cellular phone services offer options for text messaging at special discounted rates when part of a calling plan.
AS FEATURED ON:
AS FEATURED ON:

By: bloomua

SMS tools may allow users the capability of sending messages directly from their e-mail.

By: Nomad_Soul

SMS language includes emoticons.

By: katie_martynova

SMS apps can be downloaded onto a tablet PC to facilitate communication.

By: Giulio_Fornasar

Text messaging has become increasingly popular all over the world.