What Are the Different Types of Virtual Reality Games?
While there are many different types of virtual reality games, most of them can be categorized as either limited virtual reality (VR) experiences or simulator games. VR experiences are games in which a person wears a headset that creates an immersive experience through audio and digital displays, while using a handheld input device to play the game. These types of virtual reality games can create just about any kind of experience, from first person shooters (FPS) to racing games. Simulators, on the other hand, feature some type of enclosed environment in which a person is completely immersed within the game experience.
Virtual reality games typically refer to those in which the experience of playing a game goes beyond simply looking at a monitor or display screen and holding a controller or using a keyboard as input. These games attempt to draw the player into the game in a more immersive way and can do so through many methods. Many virtual reality games utilize a headset that someone wears, in which speakers and small displays are used to create the impression of a three-dimensional virtual space around the person.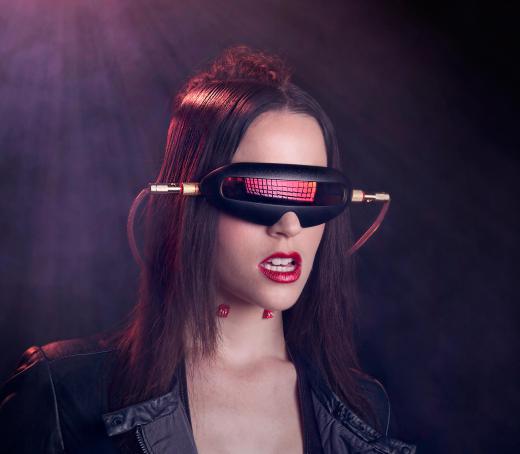 These types of virtual reality games can take a number of different forms and have different types of controls. A FPS game made as this type of VR experience might include a headset and shoulder rest, with handles that include triggers to emulate the experience of holding or using large guns. Racing games can be made using this type of technology, allowing a person to look around and see different directions on the headset, while holding a wheel to control the game. Games can also be made using this technology to emulate various athletic or sports activities and to create interactive virtual experiences.
There are also virtual reality games designed using a simulator. These types of simulators are usually small, closed-in spaces in which a person stands or sits to play the game. Racing games, for example, can be created as simulators in which a person sits within a small closed room similar to the inside of a car, and multiple displays within the simulator are used to create the impression of a virtual space outside of the room.
Similar controls are used in these types of virtual reality games, except no headset is usually worn as the simulator creates the images around a person. This can make for a somewhat more immersive experience, since suspension of disbelief may be easier with a wider field of view. These simulators can also include motion features, in which the small room can tilt and shift in order to re-create the feeling of motion while driving, flying a plane, or riding a roller coaster.
AS FEATURED ON:
AS FEATURED ON:

By: Jandrie Lombard

Virtual reality games can create just about any kind of experience for the player.