A camera phone is a type of mobile phone that is equipped with a small digital camera. Camera phones began to emerge in the early part of the twenty first century, and were originally quite expensive. Improvements in the technology coupled with popular demand made the appearance of mobile phones equipped with cameras ubiquitous. Some wireless phones have cameras with excellent resolution, allowing the user to take a crisp, high quality picture.
A camera phone usually houses the camera interface at the top of the phone. The user aims the camera phone at the object which needs to be photographed and pushes a button on the phone to take the picture. Usually the picture appears immediately, and the user has the option to send the picture to another individual with a camera phone, email the image, save the picture, or throw it away if the picture came out poorly. Most phones include enough memory to store a reasonable number of photos.
Camera phones represent a major advance in visual communications, as people with cellular phones all over the world can quickly send pictures to each other. Many people have found a camera phone quite useful when they are in a vehicle accident or on the scene of breaking news, both instances where a camera is a valuable thing to have. A camera phone is also an alternative to a traditional digital camera, which can be bulky in comparison to a mobile phone.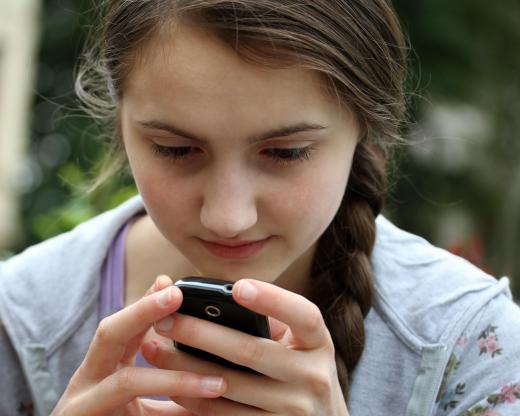 Because the camera phone is such a popular tool, many devices are designed to interface with it. In most cases, a camera phone can be hooked up to a computer so that images can be extracted. Users can also email pictures to themselves to get them off the camera. Blogging software allows users to post from a camera phone, including a small caption along with the image. Comment boards and news websites also sometimes include software to communicate with camera phones.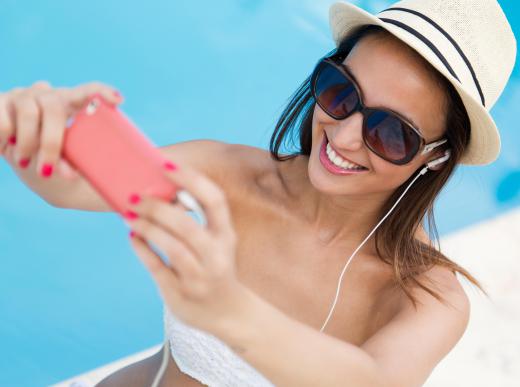 The resolution of a camera phone can vary widely. Initially, the technology allowed for only small, blurry images. As cell phone manufacturers perfected the technique, resolution improved, and the amount of memory on cell phones was increased. While the images still look small and grainy on the screen of the phone, when transferred to another medium they can be quite acceptable for many uses. Camera phones with a higher resolution still tend to command a higher price, because their manufacture is more difficult.
AS FEATURED ON:
AS FEATURED ON:

By: fotogestoeber

A camera phone is a smartphone or cell phone that includes an integrated camera for snapping photos.

By: denys_kuvaiev

Camera phones are popular with younger users who enjoy taking and sharing "selfies."

By: nenetus

Camera phones allow people to take pictures on the go.

By: Duncan Noakes

Camera phones might be used to send pictures of a damaged vehicle to an insurance company.