A smartphone is a mobile phone with pre-loaded applications and Internet access, as well as digital voice service. Services may include email, text messaging, a camera, an MP3 player, and an organizer, in addition to web browsing. A social phone is a smartphone that is focused on social networking as its primary function. Phones have had some social networking abilities for several years, but in the second half of 2009 and the early months of 2010, a new group of phones that took the social phone, or social smartphone, concept farther than ever before made their debut.
Features of social phones that were being developed in 2009 included apps that focused more on social network interactions. For example, the Motorola® Motoblur® has a widget for its home-screen that monitor three social networking sites: Facebook®, Twitter®, and MySpace®. On Motoblur®, social network messages are combined into a "universal inbox," which puts all social network messages, email messages, and SMS messages in one convenient location. On the HTC® Hero® phone, contacts from Facebook®, Google® Mail and Microsoft® Exchange® are merged, so that one doesn't have to use a separate contact list for every app, and Palm® Pre® and Pixi® have a similar feature.
In early 2010 at the Mobile World Congress, a new group of phones was debuted that advanced the social phone concept. Manufacturers including Samsung®, Sony Ericcson®, HTC®, and Microsoft® each showed off a social phone with software programs that integrate different streams of information, collecting updates in one place. Groupings included a variety of social networking site updates and, in some cases, email. This means that users will no longer have to go to a variety of websites to interact with their friends.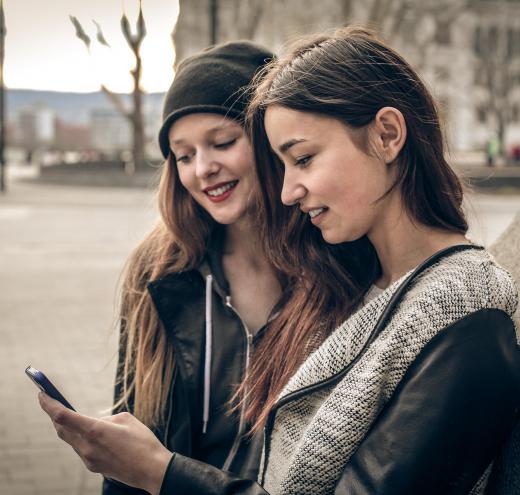 In April 2010, Microsoft® rolled out KIN®, the first social phone named to reflect the social experience it is meant to offer. KIN® was created through partnerships between Microsoft® and Verizon Wireless®, Vodafone®, and Sharp Corporation®. With a May release in the US and a fall release in the UK, Germany, Italy, and Spain, KIN® has two models — KIN® ONE and KIN® TWO — that are designed for a social networking focus.
Unlike some of the earlier social phones that added social functionality with software, social networking is more integral in the way the KIN® phones are built. The home screen, called the KIN® Loop, is always on and showing feeds from email and social network sites, which can be prioritized according to user's selections of which people to favor. Other features include a spot to which any material to be shared — text, images, or videos — is dragged to collect it, and then sent out over whatever networking means the user chooses. Moreover, the phone automatically backs up most items to the cloud, so it is available from a Web browser on any device or computer.
AS FEATURED ON:
AS FEATURED ON:

By: N-Media-Images

A social phone has social networking features integrated.

By: olly

Social phones allow users to quickly and easily access social media.

By: Syda Productions

Today, most smartphones come equipped with apps that allow users to interact on social media.