A FireWire® hub is a computer peripheral that can increase the number of IEEE 1394 interface devices that may be attached to a computer. Many FireWire® hubs also include universal serial bus (USB) ports, which can allow even more devices to be connected. It is often possible for a FireWire® hub to function as a repeater, allowing many hubs or other devices to be daisy chained together. Another function that these hubs may provide is to facilitate network connections, since it is often possible to create a local area network (LAN) over FireWire®.
The IEEE 1394 standard was introduced in 1995, and is commonly known by brand name such as FireWire®, i.LINK™ and Lynx™. These brand names all typically represent the same underlying technology, connectors and transfer protocols. A FireWire® hub will typically allow any IEEE 1394 device with the correct plug to be connected or chained together. There are different types of IEEE 1394 though, including 1394a-2000 and 1394b-2002. Some FireWire® plugs use six circuit connectors, while others use four or nine.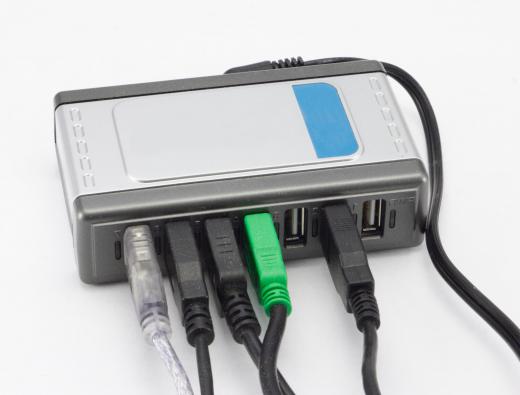 Many computers have only one IEEE 1394 port, while others have none at all. A FireWire® hub typically requires at least one IEEE 1394 port to function. Hubs that have both FireWire® and USB connections will typically require one of each to be plugged into the computer. If a computer lacks an IEEE 1394 port, the solution is typically to install an expansion card that includes the functionality. A FireWire® hub may then be used to expand the number of IEEE 1394 devices that can be connected to the computer.
One feature that is common among FireWire® devices is the ability to daisy chain. There is a maximum limit of how long a FireWire® cable can be, though many devices, repeaters, or hubs can be chained together to increase this length. Multiple hubs can increase the physical distance of a device from the computer it is connected to. In the same way, multiple hubs may often be chained together to greatly increase the number of devices that can be connected at once.
FireWire® is typically capable of creating network connections without the use of any external router hardware. This can usually be accomplished by simply connecting one computer to another using IEEE 1394 ports, depending on the capabilities of the operating system (OS). A FireWire® hub may be used to increase the number of computers that can be connected to such a network.
AS FEATURED ON:
AS FEATURED ON:

By: Robert Asento

FireWire Hubs often have a number of USB ports.