What is a FireWire® Port?
FireWire® ports are forms of a serial port that make use of FireWire® technology to transfer data rapidly from one electronic device to another. This device has been in common use since 1995, when Apple, Inc. first began to include the port on a number of digital camcorders. Today, it is used on a number of other devices.
As a multi-platform serial bus, the FireWire® port has the ability to interact with a number of different devices. For example, a FireWire® connection can provide an ideal way to connect a scanner to a computer system. Because the transfer rate of the port can reach up to 400 Mbps, the data transfer is relatively fast and also results in excellent quality.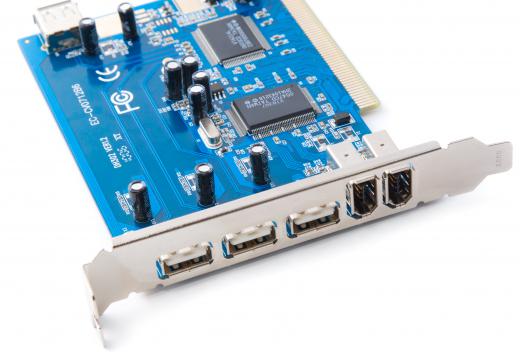 A similar approach is taken when uploading captured images from a digital camera to a computer hard drive. Use of a FireWire® port can mean images that are free of an loss of quality, and are excellent candidates for print after the download is complete. Once the images are uploaded, the storage drive on the camera can be cleared, making the camera ready for more use.
However, the FireWire® port is not just for establishing a connection between various electronic devices and a computer system. In fact, FireWire® connections can be created directly between two independent devices. Today, there are small printers manufactured for direct use with a digital camera. Making use of a FireWire® port to establish a connection, the original file on the digital camera can be printed out on the printer. This completely eliminates the need for uploading photos to a hard drive and then initiating a printing process.
The FireWire® port is so common today that most consumers do not give the port a second thought. While very similar to the USB 2.0 port, it does offer an enhanced transfer rate between devices. This often makes the use of this type of port more desirable with hand held devices, as well as devices where temporary rather than permanent storage is the main focus. However, it should be noted that many businesses today utilize independent storage devices that are equipped with a FireWire® port. This is because the process of uploading or accessing archived files and other data is much quicker when using this type of port.
AS FEATURED ON:
AS FEATURED ON:

By: Timur Anikin

A FireWire® port.