What is a Flight Tracker?
A flight tracker allows you to monitor the basic statistics and position of an airline flight as it departs, is in transit, and arrives at its destination. Using a flight tracker is extremely handy when you have plans to pick someone up from the airport, as you can see exactly when their flight will arrive. The information is updated continuously in real time, informing you of unanticipated delays or flights that are running ahead of schedule.
The best thing about a flight tracker is its ease of use and the price -- it's free! Many online sites provide this service making it a snap to check on that special someone you're expecting. Conversely, if you've just seen your son or daughter off at the airport and want to make sure his or her plane arrived at the other end safely, a flight tracker will allow you to monitor the plane's geographical position in flight, and will indicate when the plane has safely landed.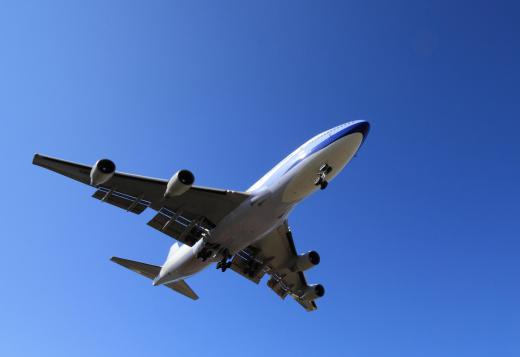 To use a flight tracker you will enter information such as the name of the airlines, a date and a flight number. The airport code might also be required, such as LAX for Los Angeles International Airport, or JFK for John F. Kennedy airport in New York. The current status of the flight will then appear, whether it's boarding, already in flight, on approach, or has landed.
When a plane is in the air a flight tracker will allow you to monitor its geographic position in real time as it makes its way to its destination. A GPS-type satellite map with a flight path indicator -- a line drawn from departure to destination to mark the route the plane will take -- displays its progress. A small icon represents the plane. As you refresh your page by reloading every few minutes, you can see the plane advance along its route. Statistics like altitude, speed in knots, the type of aircraft, flight number, and a continuously updated estimated time of arrival are usually listed.
As the airplane reaches the end of its trip, the flight tracker will show you that the plane is on approach, and finally that it has landed. Even the gate number will be provided!
This service is also handy to make sure your flight will be leaving as scheduled. This is especially important when booked on a stop over -- that is, when the flight is coming in from another destination to land briefly at your airport. Anything that might have affected the schedule of the previous leg of the flight, from bad weather, to a strong head wind, or even preflight mechanical delays, can all spell a delay for you. But a flight tracker will let you know if your flight is running on time.
Using this free service is a true convenience and once you have availed yourself of it you'll probably be hooked. Links to other pages might provide related information like maps of airports and terminals, and local weather conditions.
To find a flight tracker, simply enter "flight tracker" in any search engine, and you'll be on top of that next flight quicker than you can say, "Arrivederci!" Some flight trackers are limited to domestic flights, so if you are planning on tracking on an international flight, you may need to track down a specialized tracker.
AS FEATURED ON:
AS FEATURED ON:

By: hallucion_7

Flight trackers can be used to determine when a commercial flight is expected to arrive at its destination.

By: Pierre Landry

The altitude of an aircraft is included on a flight tracker.

By: senohrabek

A flight tracker will indicate when a plane has safely landed.

By: Elenathewise

Some flight trackers provide information such as maps of airports and terminals.