A game port typically refers to an Input/Output (I/O) slot on a computer that can be used to connect a joystick, gaming pad, or similar peripheral. These connections were used primarily in the 1980s and 1990s for connection of a game controller to a computer, though they were largely replaced by other connectors, such as the Universal Serial Bus (USB) port. Later versions retained this connection on the sound card for a computer, rather than as part of the motherboard or as a separate card. The term "game port" can also be used to refer to a game that has been transported or "ported" from one console or system to another.
There are two common meanings of the term "game port" that can be used, with the context of usage often determining which is meant. In Personal Computer (PC) gaming, this term can refer to an I/O connection that was used in the late 20th Century. Introduced in the 1980s, a game port was a 15-pin connection that was often part of a dedicated peripheral card on a computer. Later versions kept the port but placed it on certain models of sound cards, rather than requiring a dedicated motherboard slot.
A number of devices could be connected to a game port, including gamepads and joysticks. Gamepads or controllers are hand-held devices that can be used to directly control a game, much like those provided with different gaming consoles. Joysticks are similar peripherals that can use a game port, which provided a player with a large stick used to manipulate or move a game character or object on-screen.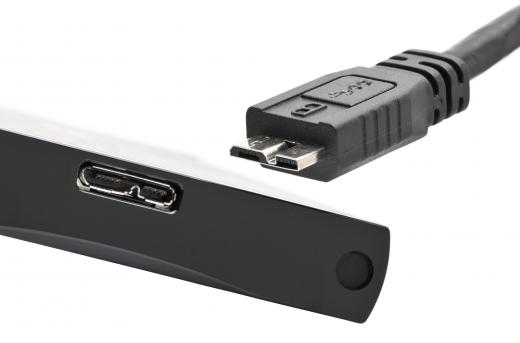 One of the limitations of the game port was that it could inherently support only up to four buttons on any controller. There were methods that developers could use to get around this, though it made the use of devices through the port more complicated. The introduction and widespread use of USB or Universal Serial Bus ports largely replaced these earlier connections. A USB connection is simpler for game developers to account for and can facilitate more complex input devices.
The term "game port" can also be used to refer to a game that has been altered from one system to another. If a game is developed for the PC, for example, and then a second version of it is made to run on a gaming console, then that second one is referred to as a "port." This refers to the fact that the game has been "transported" from one system to another and is often used derisively. Many game ports in the past were poorly transferred and often considered lesser versions than the original.
AS FEATURED ON:
AS FEATURED ON:

By: Light Impression

Game pads or joysticks often attach to a computer through a game port.

By: Shawn Hempel

A USB 3.0 game port offers faster onscreen response time than a traditional USB 1.1 device.