A sound card is an internal computer component that processes audio files in order to provide high-quality playback through computer speakers. It plays voice as well as music files and can handle various audio file formats, including .wav, .mp3 and .cda to name but a few. The quality of the sound card and speakers both affect the overall sound quality of the computer system. The typical card has an interface available at the back of the computer with various input and output ports, including the speaker plug.
Most cards also have a line-in port for listening to or recording from an external device such as a digital audio player. If the source device does not have a line-out port to connect to the sound card, a stereo cable can be run from the headphone jack on the source device to the line-in port on the card. Software configurations may be required to hear the device playing.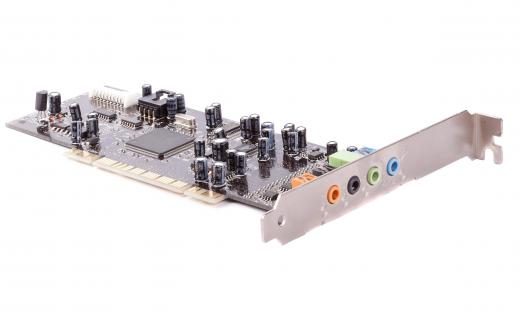 A microphone port is also included. By plugging in an external mic, one can record notes, lectures, daily personal logs, audio blogs or podcasts. For private listening, every card features a headphone jack, which offers the perfect way to enjoy MP3s, DVDs or other audio files without disturbing others.
A sound card typically comes with proprietary software and drivers, though standard Microsoft® operating systems automatically detect and load drivers for popular cards. The software interfaces with the card to allow the user to set parameters and controls, and to perform checks on the hardware. It might also come with tools for recording, burning, editing or composing.
Advanced devices come with added versatility for audiophiles. The card might include a digital sound port, midi interface or Sony-Philips Digital Interface Format (SPDIF) in/out ports. Some include a front bay interface that might feature a second line-in, instrument ports for recording original music, a headphone jack with its own volume control, Firewire®, or other options. Having these ports at the front of the computer in a bay, rather than at the back, is highly convenient for using the computer as a personal recording studio.
Generally, more expensive sound cards come with advanced software programs for editing and recording. They also support surround sound for a high-quality audio experience. This is important to audiophiles and gamers alike.
Many motherboards today have built-in sound cards. These can be disabled in order to use a superior third-party card purchased and installed separately, although the built-in device is likely adequate for those less fanatic about their sound quality. Third-party components are available everywhere computer components are sold.
AS FEATURED ON:
AS FEATURED ON:

By: Oleksii Nykonchuk

A sound card processes audio so that the information can be played through computer speakers.

By: enens

Most desktop PCs come with at least a basic sound card.