What are Audio Input Devices?
Audio input devices allow a user to send audio signals to a computer for processing, recording, or carrying out commands. Devices such as microphones allow users to speak to the computer in order to record a voice message or navigate software. Others are made to interface a computer with a CD audio source, digital audio, or MIDI instrument such as a synthesizer.
Microphones, among the most common devices for audio input, are used with line-in or microphone-in settings within a recording software package. Most operating systems come with a basic recording capability built in. Users can archive spoken messages, verbal notes, generate audio journals or make podcasts. They can also customize sound events on the operating system by making your own wave files. Instead of the usual "chime" at the boot into Windows®, for example, the machine could play a message welcoming the user by name.
Aside from recording, audio input devices are also used with speech recognition software. In this case, a microphone is used to speak to the software. Once the software is trained to recognize the user's voice, it can carry out commands rather than having to use a keyboard. When a user dictates a letter, for example, speech recognition software can translate the spoken words into a written document. This is handy for anyone who isn't a typist or who has a disability.
Input devices can also be used to transfer pre-recorded music to a computer. Using CD-in or line-in (depending), a person can transfer tracks from a cassette tape, CD, stereo tuner, or turntable to a computer. Once transferred, the track can be used on a portable music player, re-burned to a new CD of favorites, or added to a digital library.
Audio input devices are also used to record live music to a computer. Many software packages offer extensive sound editing for musical enthusiasts. MIDI-in settings allow musical instruments such as synthesizers and drum machines to be recorded to tracks. Using a microphone, a person can add acoustic instruments and voice. Tracks can be edited and mixed to build songs.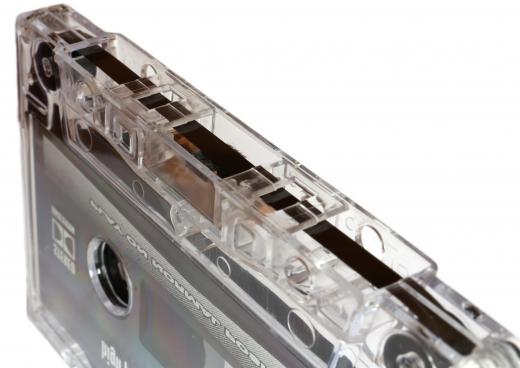 These devices add a great deal of flexibility and functionality to the computer. High-end sound cards might offer more interface ports than less expensive cards, so if a user has a particular project in mind, he should explore the possibilities with his current hardware and an appropriate software package before assuming an upgrade will be necessary. For many projects, basic hardware is adequate.
AS FEATURED ON:
AS FEATURED ON:

By: nikkytok

Some audio input devices are designed to interact with musical instruments.

By: soundsnaps

Microphones can be used to pick up vocal parts or instruments.

By: muuraa

Audio input devices can transfer tracks from a cassette tape to a computer.

By: imkenneth

Various audio input devices are used by singers to record new music.