What is a Netbook Sleeve?
A netbook sleeve, also known as a netbook skin, is a protective case for the small laptop computers known as netbooks. Netbooks are typically between 10 and 11 inches (25 to 28 cm) across, so it is typically not a good idea to use a standard-size laptop sleeve because it will not provide enough protection, and the netbook may be able to slide around inside the larger laptop sleeve. In general, a netbook sleeve is meant to be used as an additional layer of protection within a separate case.
A netbook sleeve is typically a soft, fitted cover for a netbook. The sleeve goes on top of the netbook when it is closed, adding an additional layer of padding in case the netbook is dropped or bumped. In addition, the sleeve covers the ports on the computer and ensures that dust or dirt does not get inside when the netbook is in a bag or briefcase. There are many different designs of netbook sleeves available to suit different tastes.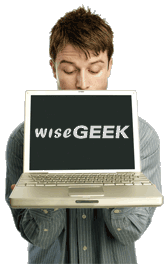 A netbook sleeve may simply be designed like a pocket that the netbook is slipped into; the sleeve may have a clasp, snap, or some other sort of securing mechanism to prevent the netbook from sliding out, but this is generally the simplest type of design. Other netbook sleeves may have a zipper that goes around three sides of the sleeve to better secure the netbook when it is inside. Some netbook sleeves are designed to be water resistant as well. They come in many different colors and designs.
Netbook sleeves that are designed to be carried alone, and not placed inside a separate netbook case or carrying bag, may also feature a handle. It may be a hand strap or shoulder strap. Determine whether the extra protection of a netbook case is needed, or whether a soft netbook sleeve will suffice; if one is only walking up the street to a coffee shop, for instance, the protection offered from a simple netbook sleeve will probably be fine.
Otherwise, netbook sleeves are designed to be thin and light so they can easily be slipped into a laptop case, backpack, or carrying bag. When the netbook bumps around inside the bag, the sleeve will keep it protected. Even though netbooks are designed to be slim, light, and easily transportable, keep in mind that they are sill computers that need to be protected, and could easily be damaged if they are bounced off the floor or bumped into.
AS FEATURED ON:
AS FEATURED ON:

Man holding computer