What is a Network Consultant?
Network consultants are technological professionals who assist corporations and other organizations with designing, implementing, and maintaining efficient information technology networks. The design of the networks may include a wide range of recommendations regarding computer telephony equipment, service providers, software applications, and other components that make up a total Information Technology or IT infrastructure.
A network consultant may be contracted to create a network from scratch or to take an existing network and enhance or update any or all components associated with the business tool. The consulting may involve nothing more than evaluating the needs of the client and preparing a detailed document of what is needed to create a networking structure that will meet those needs. In other instances, the network consultant may be contracted to actually see to the purchase of needed equipment, securing the right vendors for various communication services used within the network, and providing basic training to employees who will handle day to day troubleshooting and maintenance tasks.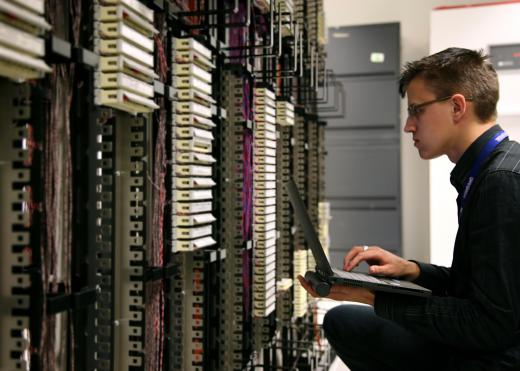 In order to build a career as a network consultant, it is important to become well-versed in various aspects of telephony, computing equipment, and programming. Depending on the nature of the client's business, the consultant is also likely to need a working knowledge of such online capabilities as remote storage, virtual servers, and Voice over Internet Protocol. This broad understanding of how various telecom and technological tools work within an integrated network can make it possible to fine tune any existing structure for increased efficiency, or help a client make prudent choices in the components selected to establish a working network.
While a network consultant may contract to only evaluate client needs and deliver a list or recommendations, it is more often the case that the consultant makes a commitment of several months or longer to assisting customers in the creation and maintenance of the network. This may involve establishing an ongoing working relationship where the client pays a monthly fee in return for being on call to assist when unanticipated problems arise with the network or to take care of the addition of new components and training in house personnel to manage those new resources. Essentially, the responsibilities of a network consultant can be as broad or as limited in scope, depending on the terms agreed upon by the client and the consultant.
A qualified network consultant can choose to work independently or associate with a company that provides various types of networking support services to clients. For a network consultant that enjoys traveling and living in different locations for longer periods of time, associating with a company with customers across the country can be a great option. A consultant who prefers to remain in the immediate area and control which projects are contracted may choose to function as a freelance or independent network consultant. In both cases, people who have excellent credentials as network consultants are likely to have little trouble in making a decent living.
AS FEATURED ON:
AS FEATURED ON:

By: Eimantas Buzas

Network consultants help organizations design and install network systems.

By: rlat

A network consultant's responsibility may include calling and supervising maintenance and repair technicians, or diagnosing issues himself using such tools as a network cable tester.