A removable user identity module (RUIM or R-UIM) card is an identification chip for cell phones that work on Code Division Multiple Access (CDMA) networks. A RUIM card stores a user's personal information, such as his or her name and account number, phone number, address book, text messages, and other settings. These cards can be swapped between compatible phones, so the user's information and settings are easily transferred. In many cases, a RUIM card can also be used in a phone designed to work on the Global System for Mobile Communication (GSM) network.
Activation
To activate a CDMA phone that uses an RUIM card, only the card must be activated. Once active, it can be used in any compatible handset by simply removing the card and inserting it into another phone. The new phone is then able to make and receive calls on the user's account.
Users can switch between several phones or borrow a friend's compatible phone to make a call with his or her own RUIM card. If the user switches to another phone service provider (also called a carrier) and wants to keep the old phone, a new card from the carrier can be inserted into the existing phone. The existing phone must be unlocked and compatible with the frequency band of the new carrier for this to work, however.
It's important to note that, for the RUIM card to work in a new handset, that phone must either be from the same cell phone service provider or unlocked. In some countries, like the US, a phone handset is usually locked to a particular carrier, which means that only RUIM cards from that same carrier can be used in these handsets. An unlocked phone is one that has had this limitation removed; any card from any carrier can be used in an unlocked phone.
RUIM and SIM
The RUIM card was designed to replicate many of the advantages of the Subscriber Identity Module (SIM) card on the GSM network. Phones on the CDMA network that do not use RUIM cards store all of the user's information in the phone itself; if the user wants to change phones, he or she has to go to the cell phone service provider, who will transfer the information to the new handset. GSM network phones use SIM cards, which store all of the user's information, so activating a new phone is often as simple as moving the card from one handset to another.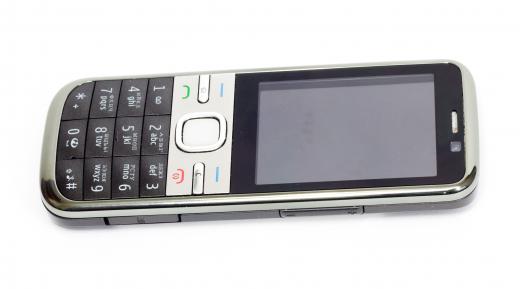 CDMA phones that use RUIM cards share this ability to swap information between phones. The card is the same size and shape as a regular SIM card, and typically includes a version of the SIM software, which means that it can be used in GSM phones. As with switching cards between CDMA phones, however, the GSM handset must be unlocked for a RUIM card to work with it. An RUIM card in a GSM phone might not work in all locations, because different regions use different cell phone frequencies.
Security
Security is a major concern for people who use RUIM cards since they hold all of the user's personal information. Most RUIM cards require — or can be set to require — that the user enter a personal identification number (PIN) before the card can be used. When a phone containing the card is powered on, the user must enter this number to use any of the phone's features other than emergency calls. If the user enters the wrong PIN multiple times in a row, the phone will become blocked and no longer accept new tries.
Availability
The CDMA network has the largest number of subscribers primarily in Asia and North America, but not all service providers use phones with RUIM cards. They are much more common in China and other Asian countries than they are in the United States, for example. There are a number of different reasons for this; some experts suggest that US cell phone users do not switch between phones as often as people in other countries, and so don't need this feature, while others argue that US carriers don't have any incentive to allow users to switch between handsets more easily.
The Future of RUIM
CDMA and GSM are second-generation (2G) technologies, which was designed primarily for voice calls. With the increase in data usage by users, many carriers have upgraded from 2G technology to 3G, which can transfer data more quickly; the two main competing 3G technologies are CDMA2000® and Universal Mobile Telecommunications System (UMTS). Although UMTS works on the Wideband CDMA (WCDMA) standard, it operates on the same core network as GSM, and is not compatible with CDMA or CDMA2000®.
As development continues, however, most carriers — including those using CDMA and CDMA2000® — are upgrading to 3GPP Long Term Evolution (LTE), which is based on GSM and UMTS. All LTE phones use SIM cards, so new handsets that use this network from any carrier must have that type of card. This means that RUIM cards, which do not work on LTE, will likely eventually become obsolete.
AS FEATURED ON:
AS FEATURED ON:

By: Brian Jackson

RUIM card being placed into a mobile phone.

By: Nikolai Sorokin

An RUIM card.

By: Andres Rodriguez

An RUIM card stores a user's personal information, including text messages.

By: schankz

A cellphone that uses an RUIM card.