What is an Unlocked Phone?
An unlocked phone can be used with a Subscriber Identity Module (SIM) card from any network or region. Most mobile phone companies install special "locking" software on their phones that prevents them from being used with any other network's SIM card. However, customers can contact their providers or use third-party services to unlock certain types of phones, allowing their use with other networks. While this is not typically illegal, it can violate the contract or Terms of Service (ToS) between a customer and service provider.
Phones That Can Be Unlocked
Many modern mobile phones include a tiny card in them called a SIM card. This card identifies a mobile phone as a certain phone number, holds contact data, and stores other data. A mobile phone user can move their SIM card from one phone to another and still keep the same number and other information. These SIM cards are used in phones on a network that utilizes Global System for Mobile communication (GSM), which is used by many European providers and some in the US.
Locked Phones
A locked phone essentially has software on it that prevents it from working with a SIM card that has any other carrier's information coded into it. For example, a mobile phone locked by AT&T® can only function with a SIM card that is affiliated with that network. With an unlocked phone, however, a person can use any provider that uses the GSM standard, including whichever company offers the best rate or the highest quality services.
Unlocking a Phone
There are a few different ways to turn a locked device into an unlocked phone. Some mobile providers unlock phones for their customers, as long as there is no longer a contract tying that user to the provider. There are also third-party companies that can be contacted and provide codes or software used to unlock one. Either method is usually quite inexpensive, though prices can vary depending on the type of unlocked phone and the service used.
Benefits And Drawbacks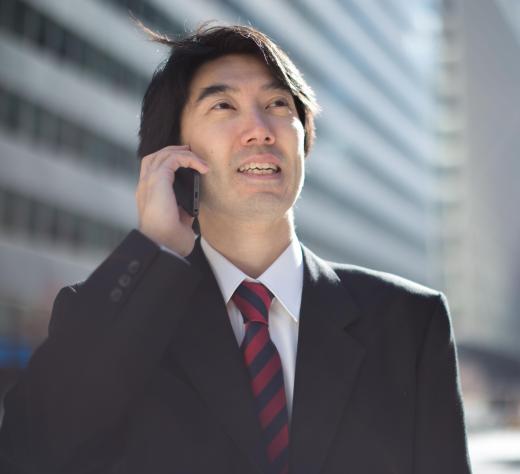 An unlocked phone gives a user more options, allowing him or her to choose a GSM service provider and swap out SIM cards more easily, even when traveling in a foreign country. Another advantage is that an unlocked phone is worth more for resale, since someone can use it with more providers. Unlocking a phone is typically legal, though local laws should be consulted by anyone considering unlocking one. The ToS provided by most companies usually forbids unlocking while under contract, and doing so can result in fines by the provider.
Why Phones Are Locked
One of the ways that cell phone companies attract new customers is to offer free or inexpensive phones when the customer signs a contract. In addition to charging a high termination fee if customers cancel their service before the contract is up, cell phone companies protect themselves by locking the phones they sell to their network. This keeps them from losing money on customers who want to buy a phone at a low price and then activate it with another network for a better rate.
AS FEATURED ON:
AS FEATURED ON:

By: chere

SIM cards.

By: Brian Jackson

SIM cards can be replaced in some mobile phones.

By: Tonanakan

An unlocked phone can be programmed to use the towers of a different cellular network.

By: blvdone

Most cell phone companies install locking software on their phones in order to prevent them from being used with another network's SIM card.