What Is a Shallow Mount Subwoofer?
A shallow mount subwoofer is a special type of subwoofer speaker, primarily designed for car audio systems. A subwoofer is intended to produce very low sounds, known as bass, in music, and are an integral part of any high quality sound system. Standard subwoofers have a cone-shaped profile and require up to several inches (1 inch = 2.5 cm) of depth for mounting, a characteristic which may prove difficult to accommodate in some applications. A shallow mount subwoofer is designed to take up a minimum of vertical space. This is achieved in one or more ways that usually involve changing the basic configuration of a typical subwoofer.
A typical subwoofer speaker consists of a cone with a large magnet mounted at its point and the wide end facing outward toward the listener. The rim of the wide end of the cone is usually flush with the mounting surface with the cone extending into the space behind. In many cases, this is not practical for one reason or another. Often, the problem is that the desired location does not have enough clearance to hold the speaker. In the case of subwoofers installed in separate boxes or enclosures, the large size of the speaker requires a box, which may take up cargo space that the owner would prefer not to allocate.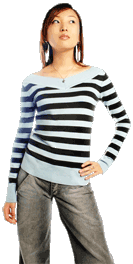 The traditional configuration of subwoofer speakers is altered in a shallow mount subwoofer in order to make it possible to mount the subwoofer with restricted rear clearance. Many shallow mount speakers can be mounted with half the rear clearance needed for a comparable traditional subwoofer or, in some cases, even less. In some designs, the magnet is moved from the point of the speaker cone to a point along the length of cone itself, like a ring on a finger, or even mounted on "top" of the speaker. Rear clearance requirements may be further reduced by designing the subwoofer to extend above the mounting surface rather than being designed to mount flush with the surface. Manufacturers may use other techniques to reduce the required mounting depth as well, and some of these are patented designs.
Speaker technology has progressed to the point where such subwoofers offer performance on par with traditional subwoofer types, although many audio purists insist that traditional subwoofers are at least marginally superior. For most people, a shallow mount subwoofer is perfectly acceptable in terms of performance. It is also more suitable to their needs in terms of space and installation requirements.
AS FEATURED ON:
AS FEATURED ON:

Woman with hand on her hip