What is a Step Down Voltage Converter?
A step down voltage converter is usually defined as an electrical device that takes incoming residential voltage in alternating current (AC) and outputs a much lower voltage in direct current (DC). These devices are also commonly referred to as a step down voltage transformer. Occasionally a step down voltage converter is designed to take in AC and output AC as well, such as in the case of a converter that takes 240 AC voltage in England and outputs 120 voltage in the US for travelers who wish to purchase local electronics that they can use when they return home. This AC-to-AC device is also referred to as an electrolytic capacitor converter.
Common retail models of voltage transformer usually resemble a cubical or rectangular black plastic box, with one end that plugs into an AC wall outlet, and a DC cord and plug for the device on the other end. Output voltage for these devices ranges from about 3 volts to 24 volts, depending on the needs of the electrical device. Some models of step down voltage converter also have a sliding switch for choosing the output voltage, often ranging from 3-12 volts, which makes the voltage converter a multipurpose device for many low voltage devices from electric razors to CD players and DC power tools. Voltage regulators are connected to a step down voltage converter that offers multiple voltage output levels, and regulators are employed where the DC output must be exact for sensitive electronics.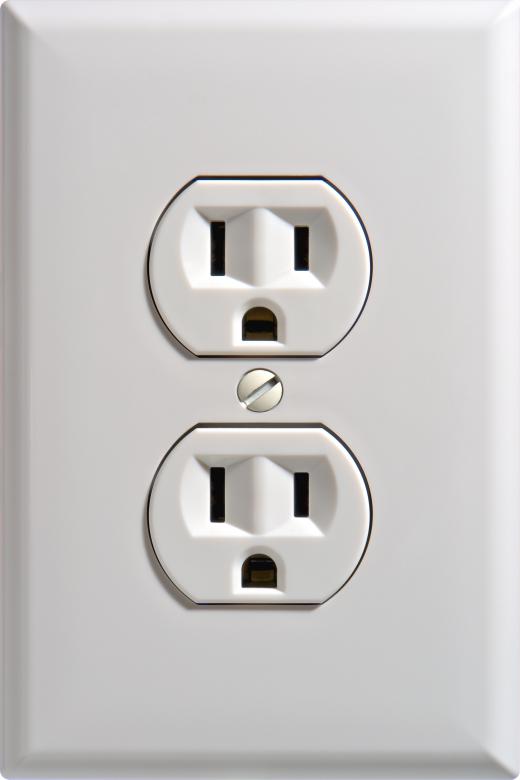 The principle behind the operation of a step down voltage converter is based upon electrical wiring that is wound around an electromagnet. More windings of wire on the input side of the electromagnet will reduce output voltage correspondingly. A 240-volt AC converter with 20 windings of wire on input would by default output 120-volts AC if there were 10 windings of wire on the output end of the converter. Induction coils were the earliest form of voltage transformer to make use of this principle, discovered in 1831 by Michael Faraday, with what later came to be known as Faraday's law of induction.
Because a step down voltage converter that is plugged into an electrical outlet is always "on" even if the other DC end is not supplying power to anything, they can generate significant heat, and continue to draw power at a constant rate. This is because a standard step down voltage converter wastes upwards of 50% of the power supply from the electrical outlet as heat energy in the conversion process. Some modern DC powered devices work around this heat and energy loss, such as personal computers, by using a switched power supply instead of a standard linear DC converter. Known as a switched capacitor or switched capacitor voltage converter, they employ transistors along with the step down transformer to increase efficiency, and only draw power from the electrical outlet as it is needed by the device.
AS FEATURED ON:
AS FEATURED ON:

A socket designed for use with AC electricity.

By: Avantgarde

Electrical transformers are commonly used to reduce electricity flow to devices such as laptops.