What is a System Diagnostic?
A system diagnostic is a computer utility which is used to test a computer system for the purpose of identifying weak points, determining the cause of a problem, or assisting with setup. Many operating systems come with built in system diagnostics for the convenience of their users and it is also possible to obtain software which offers additional diagnostic options. This software may be available as freeware or shareware, or it may be necessary to pay for it, depending on the developer and the type of functionality it offers.
One common reason to run a system diagnostic is because something appears to be going wrong with a computer. The diagnostic runs through a series of checks which are designed to identify problems areas, ranging form corrupted areas of the hard drive to programs which might be conflicting with each other. A basic diagnostic will simply report any problems it finds during a diagnostic scan. More advanced diagnostic tools may offer suggestions for repairs or be capable of making fixes when they are asked to do so by the user.
A systemic diagnostic can also be run to determine whether or not a system is stable. This may be done when a system is set up for the first time, to confirm that everything has been properly and successfully installed. It can also be done as a periodic safety check to identify problems before they emerge and to help computer users and technicians identify areas of a system which may need work. People can also utilize system diagnostics as part of a security audit of a computer system.
Some companies make system diagnostics available through their websites. In this case, a user logs on to the site and authorizes it to run a system diagnostic. One advantage of using a company's website is that it is updated with the most current information about the system. When people are computer troubleshooting and having trouble identifying the problem, the operating system website may provide the most useful information.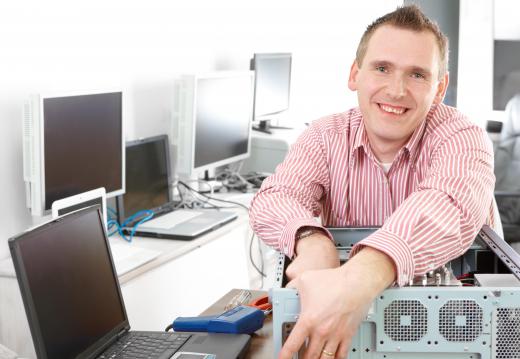 It is also usually possible to enter a basic system diagnostic during bootup, usually by pressing set keys. This allows the user to diagnose the system before booting fully into the operating system, and can be used when a computer is having trouble booting or when an operating system is so badly compromised that it is difficult to safely run a diagnostic.
One thing to be cautious about when downloading software for a system diagnostic is the source. Diagnostics are very thorough and they can penetrate sensitive areas of a computer system. Furthermore, programs which offer to enact fixes can make fundamental system changes. This can be dangerous if software is not from a trusted source. A dubious system diagnostic could, for example, embed spyware or a virus. Computer users should try to use programs from recognized and known companies and they should check the address bar in a browser before downloading to confirm that they are on the right site.
AS FEATURED ON:
AS FEATURED ON:

By: enens

Most standard PCs have a number of system diagnostic tools built in.

By: mickyso

Sometimes, it might be a good idea to have a computer professional perform a diagnostic check, and any repairs that are required.

By: Monika Wisniewska

IT professionals may use hardware diagnostics to identify failing computer parts.